In a
speech
to begin his second term, President Mahmud Ahmadinejad -- who is increasingly being characterized throughout Iran's political spectrum as its most divisive figure -- called for national unity and greatness, and said that "it doesn't matter who voted for whom."
But the scene was anything but conciliatory outside the parliament building, where
protesters clashed
with police and security forces reportedly used tear gas to disperse them.
With his position already appearing to have been weakened as a result of the postelection crisis, Ahmadinejad can expect more such difficulties in the coming weeks and months.
From All Sides
Ahmadinejad has had a rough time since the results of the June 12 vote were announced, with the outcry over his purported landslide victory leading to the worst crisis seen in the Islamic republic in the past three decades.
Iranians came out en masse to protest the results in the immediate days following the election, and continued to show their discontent despite a violent crackdown through continued street rallies and through nighttime rooftop chants of "Allah Akbar" and "Death to the dictator."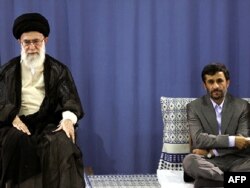 Does Ahmadinejad (right) still have Supreme Leader Khamenei's full support?
Ahmadinejad has even come under fire from some of his fellow hard-liners, who have criticized his controversial vice-presidential pick, Esfandiar Rahim Mashaie, and warned that he could be deposed if he continues to defy Supreme Leader Ayatollah Ali Khamenei.
Ahmadinejad last week downplayed any rift, comparing his relationship with Khamenei to that of a father and son.
On August 3, however, when Khamenei officially endorsed Ahmadinejad for his second term, the awkward body language between the two men and the tensions did not go unnoticed.
Many predict gray skies ahead for the Iranian president.
Crystallizing Opposition
Former student leader Ali Afshari says that despite his numerous moves to silence the opposition, including a violent crackdown, a "show trial" of prominent reformist figures, and seeking Khamenei's blessing, Ahmadinejad will remain an illegitimate president in the eyes of many Iranians.
"I don't think that all of these efforts could lead to the stabilization of this weak government and silence the protests of the people," Afshari says.
Correspondent Golnaz Esfandiari explains why Iranians remain deeply divided in spite of the president's talk of unity.
The leaders of the postelection opposition movement, Mir Hossein Musavi and Mehdi Karrubi, have vowed to keep pressure on Ahmadinejad.
Others -- including Akbar Hashemi Rafsanjani and Mohammad Khatami, two former presidents who have backed the opposition movement and who snubbed the inauguration ceremony -- also do not appear ready to back down.
Members of the opposition movement have said that they will use every opportunity to question the legitimacy of Ahmadinejad and to criticize his policies.
In recent weeks they have resorted to new tactics, including honking their car horns and assembling in flash mobs that disperse before police can arrest them.
Nuclear 'Release Valve'
Glasgow-based political analyst Reza Taghizadeh believes that, if Ahmadinejad intends to decrease domestic pressure he will have to create a "release valve," such as finding a way to work with the outside world regarding Iran's sensitive nuclear work.
Yet Taghizadeh suggests that the Iranian president will have to step carefully.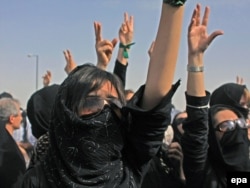 Can the opposition continue to put pressure on the government?
He says that if Ahmadinejad "makes a deal with the [West] over the nuclear issue, then, with regard to his campaign he launched in the past four years and during which he sold the nuclear program to the Iranian people as a national right, then mitigating the old ideas and making a deal would be considered weakness within the regime and people inside the country would increase their pressure."
On the other hand, if Ahmadinejad were to keep insisting that Iran's nuclear program -- including uranium enrichment -- is a "train without brakes," then he would likely face increased pressure from outside states, notably the United States and its allies.
Iran already faces three rounds of UN sanctions over its refusal to halt uranium enrichment, which Tehran claims is for peaceful purposes but has led to fears that it could be used to develop nuclear weapons.
"If the outside world increases its pressure on Iran, and if the government doesn't have domestic support, then it would become even more fragile." Taghizadeh says.

Compromise 'Unlikely'
Ahmadinejad has been accused of economic mismanagement, leading to high inflation and a double-digit unemployment rate; human rights violations; and isolating Iran on the international scene.
Washington-based Iran expert and university professor Rasool Nafisi says that Ahmadinejad, who said in his speech that Iran will resist "oppressors," is not likely to make a U-turn on his domestic and foreign policies.
"Ahmadinejad has a very inflexible personality, therefore I don't think he will pay any attention to this national movement that has been created in opposition to his way of ruling and behaving domestically and internationally," Nafisi says.
Ahmadinejad now faces the difficult task of piecing together his new cabinet, which could lead to more fissures within the conservative camp.
Nafisi says that if in the coming months "the situation gets even worse then now, and the opposition movement continues -- as I think it will -- and if there will be strikes, then it is possible that Khamenei will ask Ahmadinejad to resign."
For now, Nafisi says, the establishment is determined to do all in its power to give Ahmadinejad legitimacy and silence his critics.
As Ahmadinejad kicked off his second term, fresh arrests were reported. Among them was Haleh Sahabi, the daughter of a prominent national-religious activist, who was reportedly beaten up by plainclothes agents and taken to an unknown location.
Authorities also arrested journalist Mir Hamid Hassanzadeh, who was reportedly in charge of Musavi's website. The website has been one of the only platforms where Musavi, the second-place finisher in the presidential election, has been able to communicate with his supporters and express his views.
Musavi was quoted as saying on August 5 that the arrests of protesters will not stop the movement opposing the validity of Ahmadinejad's reelection.
Iran Election Special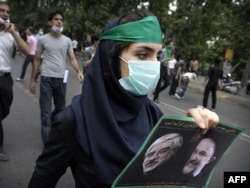 RFE/RL's Full Coverage
Following the disputed reelection of Iranian President Mahmud Ahmadinejad, supporters of Mir Hossein Musavi have taken to the streets to protest.
Click here
for news, blogs, and analysis of the presidential election and aftermath.
Iran Election Diary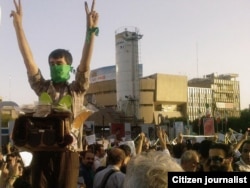 Disputed Presidential Vote
There have been protests and clashes with police on the streets of Tehran following the disputed reelection of Mahmud Ahmadinejad. RFE/RL collects videos, photos, and messages on social-networking sites coming out of Iran to attempt to get a picture of what is happening inside the country.
Click here