BELGRADE -- Gay activists, planning to hold a demonstration on October 10 in the Serbian capital, are hoping that the third time's the charm.
In 2001, a hastily arranged parade ended in violence when ultranationalists disrupted the small gathering. Gay activists waited eight years before deciding that the atmosphere might be safe enough to try again. But in 2009 city authorities forbid the march at the last minute, citing security concerns.
This year, due largely to pressure from the European Union, which Serbian President Boris Tadic is eager to join, things could be different. Tadic met with gay activists in his office earlier this year and has publicly announced his support for the parade, rare moves for the leader of a postcommunist country, especially in one that is Orthodox Christian and where popular sentiment about homosexuality is overwhelmingly negative.
The police have announced that 5,000 police officers will be on duty to protect the parade, far larger than the number of people expected to attend the march itself, which organizers have predicted will not exceed 1,000.
Coming in groups is not advisable. It makes you targets.
On the night of October 8, I attended a meeting of about a dozen young Serbians -- gay and straight -- planning on attending the march. In a smoky office on the third floor of an apartment building, Milica Djordjevic held court from behind her desk, a rainbow flag hanging on her office wall. The feisty head of a nongovernmental organization called the Center for Youth Integration, she made plain that the event on October 10 in Belgrade will be a far cry from the more festive gay prides that take place every summer in capitals like New York, Madrid, and Amsterdam.
"Coming in groups is not advisable," she says. "It makes you targets."
Djordejevic's group works with Belgrade's street children -- almost entirely from the Roma community. But she and her young colleagues see the gay rights march as a barometer of acceptance for all minorities in Serbia, which is why they are so adamant about making their presence known.
She spent the next hour warning the room about how to take care of themselves and their friends, and what to expect. Along with giving perfunctory information (the park where the parade terminates will be equipped with public restrooms, bring food and a change of clothes in case the weather gets cold, etc.), Djordjevic offered the sort of warnings that people attending a gay pride event in Western countries might scoff at: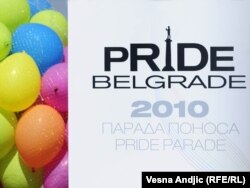 * Don't wear rainbow flags or anything else indicating your participation in the event.
* Don't talk loudly on your mobile phone about going to the parade ("make a code," she suggests when speaking about anything parade-related).
* Since all signs at the parade have to be approved by city authorities, participants cannot bring their own but must pick them up from organizers at the event.
* Avoid walking past the public garage near the start of the parade route; it is an easy place for skinheads to hide.
* There will be metal detectors at the event, so if anyone plans on bringing a knife or bottle of pepper spray for self-defense, such items will be confiscated.
Amid this list of rather grim particulars, there were some moments of levity. Last year, she said, the administrators on some extremist Internet forums gave members advice on how to "look more gay" so that they could infiltrate the parade and sneak past police and organizers. This got a laugh out of the room, but underscored the potential for violence as various ultranationalist and skinhead groups do their utmost to disrupt the parade once again.
"When you notice something," she says, "tell the organizers so they'll notify the police."
Fears Of Violence
There are some unsettling rumors about what may transpire on October 10. Some people are talking about ultranationalists riding paragliders over the parade -- so as to avoid the police cordon -– and dropping razors on the march. If a protester brings a flame torch, Djordjevic says matter-of-factly, the torch would only hurt one or two people but the panic could result in a stampede.
Many people who want to attend the parade will not, she said, for fear that antigay activists with cameras will be hovering to take photographs of participants and post them on the Internet.
"You can wear glasses or a mask to hide your face," Djordjevic says. "That is the right of every person."
Gay rights supporters are not the only ones preparing for the march. Largely operating through the Internet (on Facebook, Djordjevic tells me, a group formed to oppose the parade garnered 100,000 members in a matter of days), opponents are capitalizing on the country's Orthodox Christian roots and widespread negative feelings about homosexuality to generate active opposition to the march.
Police estimated that some 10,000 people attended a march in central Belgrade on October 9 to protest plans for the parade. Some reportedly gave Nazi salutes and called for the death of homosexuals.
A small group led by Orthodox Christian clerics gathered on the corner of a park on the morning of October 9, many bearing giant crosses.
"God teachers that the two cities [Sodom and Gomorrah] were destroyed because of such sins and this city will also be destroyed," Bora, a 30-year-old man from the town of Zemun told me.
"We are declining, disappearing. This is the prayer for people to grow," he said as his fellow demonstrators chanted prayers.
In the afternoon, several hundred people, under the auspices of the organization Serbiaki Dveri, gathered right off Knez Mihailova -- one of Belgrade's trendiest shopping streets -- to call on the government to cancel the parade. Waving Serbian flags and signs such as "I Don't Want A Daddy + Daddy" and "Life Is On Our Side," and with heavy Serbian rap music playing in the background, they labeled the parade an abomination and an attempt to destroy Serbian nationhood and families.
"The normal family life is the source of all life," Slobodan Samardzic, a former minister for Kosovo-Metohija tells me, his young grandson at his side. That said, he recognizes the legality of the march and rejects calls for violence against gay rights activists.
"This manifestation is a provocation in itself but nobody should provoke the provokers," he said.
"They want to humiliate and destroy the family," one speaker said to loud cheers. "We will fight for the family. It will be a hard and strong fight. Today we draw a red line."
The lines have indeed been drawn for the October 10 march, and no one knows what will happen. While a successful demonstration would mark the first, public gay demonstration in Serbia, the reality is that most Serbian gays and their supporters will be staying home.
But the fierce rhetoric challenging the parade -- and the possibility of violence -- has not been enough to keep Marko Shisan, a straight, 31-year-old Serbian, away.
"Sometimes you have to put your ass on the street and take a beating," he tells me. "It has to be done."
James Kirchick is writer at large with Radio Free Europe/Radio Liberty