How do you spell "dot com" in Arabic?
It's not an idle question. More than half of the world's 1.6 billion Internet users write in languages with characters that are not Latin-based. But they still have to use keyboards with Latin characters in order to access the web.
Now, the nonprofit U.S.-based coordinator of the Internet address system says web surfing will become much easier for people from Russia to Afghanistan -- or from Iraq to China -- who want to write in their own languages.
On October 30, the board of directors of the Internet Corporation for Assigned Names and Numbers (ICANN) voted to introduce a new multilingual address system capable of reading Asian and Arabic scripts.
Described as the biggest technical change to the Internet since it was invented 40 years ago, the system is designed to take characters from many different languages and convert them consistently into web addresses.
That means, for example, that web surfers in Russia, Belarus, Ukraine, and Central Asia will be able to call up Internet pages with addresses that are written entirely in the Cyrillic alphabet.
Iranians, Afghans, and web surfers across the Middle East will be able to find and create Internet page addresses using only Arabic or Persian characters. Other Asians will be able to surf the Internet in Korean, Japanese, Chinese, Hindi -- even in Tamil.
ICANN spokesman Brad White tells RFE/RL that the domain names for all webpages, e-mail addresses -- and now, even Twitter addresses -- use Latin characters because the Internet was created in the United States, where the Latin alphabet is used.
"The Internet is now clearly a global communication enterprise. But it still requires a sort of coordination system in the global Internet address system. That is ICANN's function," White says.
"We make it possible for you to enter in an address into your web browser and go to the same point every time. We don't actually control any function other than the coordination of the addressing system."
Starting At The Top
ICANN coordinates what are called "top-level domain names" around the world with the aim of ensuring that each Internet address is unique. Some examples of top-level domain names are endings like .com, .org, .net, or .biz.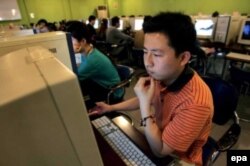 Internet use is set to become much easier for billions around the world.
There also are country-code top-level domain names -- for example, .ru for Russia, .ir for Iran, or .af for Afghanistan. But up to now, all country-code domain names have required Latin characters.
"Now with internationalized domain names, we are expanding this set [of characters]. The goal is to have as many characters available as possible," says Tina Dam, who heads the Internationalized Domain Name department of ICANN.
"And we're talking about tens of thousands of characters. That's one of the challenges with internationalized domain names -- because you are adding so many characters to the original set of characters that you could use in domain names. And when you are adding these and a lot of them look alike, you get into problems with whether it is really a unique address."
Described as a "fantastically complicated technical feature," White says the new system will make the Internet more user-friendly to people across the world.
"If you are entering an address into your web browser, let's say you are speaking Russian and you are using Cyrillic script. You are fine until you get to the dot -- for example, a .com or a .net. You have to then convert over to a Latin-based keyboard, a Latin-based language," White says.
"What we are talking about is making the entire Internet address open to any language -- be it Chinese, be it Korean, be it Arabic. We think it is going to lead to an incredible expansion of the Internet."
Bringing It In Slowly
With approval from the ICANN board, White says the new system can now be introduced gradually. But the first changes would be seen as soon as November of 2009.
White says the international domain names will be introduced to top-level domains, first with the country-code top-level domains and "then expanding beyond that into what we call the 'generic top-level domains.'"
ICANN has been conducting tests on the new system for the past two years -- introducing top-level-domain-name tests in 11 languages. But even if the transition to the new system is accomplished smoothly, it probably won't be until well into 2010 before it is fully functioning.
"We would rather go slow and get it right than go fast and have a big mess on our hands," White says. "The No. 1 thing is the stability and security of the Internet addressing system, and that is why we are taking it in this staged process."
As for how web surfers in the West would access web addresses in Arabic or Cyrillic, ICANN officials say they think search engines eventually will play a large role. White says the answer remains unresolved, but new technologies probably would emerge to handle the task.