Sooronbai Jeenbekov was named governor of the southern region of Osh by interim President Roza Otunbaeva in April, almost two months before the clashes between ethnic Uzbeks and Kyrgyz in the Osh and Jalal-Abad regions that led to nearly 400 deaths and thousands of homes and businesses being destroyed.
A native of the Kara-Kulja district of Osh Oblast, Jeenbekov was an active member of Otunbaeva's Social Democratic Party.
Jeenbekov, 51, served as agriculture minister in 2007 when Almazbek Atambaev was prime minister. Before that he was a parliament deputy for several years beginning in the late 1990s.
Jeenbekov tells RFE/RL about the Kyrgyz government's authority in the south, what he thinks caused the deadly ethnic clashes in Osh, and why people oppose the deployment of an international Organization for Security and Cooperation in Europe (OSCE) police force to southern Kyrgyzstan.
Jeenbekov spoke to RFE/RL's Venera Djumataeva, Pete Baumgartner, and Alisher Toksonbaev in his Osh office on August 26.
RFE/RL: Some observers say Kyrgyzstan's central government does not control the situation in the southern regions or that it is very weak here. How do you respond to such charges?

Sooronbai Jeenbekov:
I am working here in the Osh region and I represent the central government. All [of the central government's] representatives are working in all the Osh districts. Of course there are problems. After such bloody events in Osh, and the entire government changing just before the clashes, these things have affected the system of governance that exists here.
I would say the central government is gradually, day by day, increasing its power. But there are forces that want to disturb the central government. Some of them are trying to ensure that the parliamentary elections [scheduled for October 10] are canceled.
We will hold very clean, transparent elections and whichever party wins, the victory will be theirs.
Internal and external "friends," people from the previous regime, these are all rich and powerful forces. Just think, Kyrgyzstan is the only country in the region that has adopted a new constitution with a parliamentary, democratic system. Many of these [forces] don't like that. But we understand that and will do everything to guarantee that each vote will be counted in the elections.
We will not behave like [former President Kurmanbek Bakiev's] Ak-Jol party, throwing thousands of [opposition] ballots away and spoiling the election. We will hold very clean, transparent elections and whichever party wins, the victory will be theirs.
RFE/RL: Can you discuss what you see as some of the causes of the ethnic clashes in Osh and Jalal-Abad?

Jeenbekov:
I understand that big powers have their own geopolitical interests in Kyrgyzstan. [Some want Kyrgyzstan] to be unstable, but they shouldn't have pursued their interests in such a bloody way.
We also have internal forces here in Kyrgyzstan; people who support the previous [Bakiev] regime. Even in the law enforcement agencies, which were very corrupt [under Bakiev], we still have people [working] from the former regime.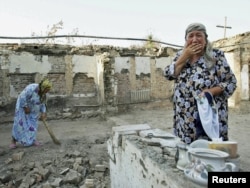 An ethnic Uzbek woman reacts in front of the ruins of her house, destroyed during the ethnic clashes in Osh.
There are people who do not want Kyrgyzstan to be a democratic country -- because now it is becoming [that]. And these people have always existed and they will continue to exist.
But [even they] have to help us in establishing a democratic country.
RFE/RL: What is the division of power between you, the governor, and Osh city Mayor Melis Myrzakmatov?

Jeenbekov:
My office is working together with the Osh mayor but I am responsible for the seven districts of Osh Oblast, since I'm the governor. And the mayor is responsible just for the city.
RFE/RL: How are your relations with the mayor?

Jeenbekov:
We are working together [laughs]. The most important thing for us is to keep the peace.
RFE/RL: So do you want him to continue in his post as mayor?

Jeenbekov:
It is not within my competency to determine if he stays. I don't decide such things.
Rebuilding Trust Between Communities

RFE/RL: How will ethnic Uzbeks and Kyrgyz be able to live together after the unrest? There are lots of rumors that people are afraid to go out at night. How will you deal with such things?

Jeenbekov:
Of course, things will not change and trust [cannot be restored] overnight. It will take years to do this.
Probably during the election campaign, some politicians will use these tensions, this situation, to escalate the problems in Osh. We have to watch for this. These problems should not be the main subject of political discourse [during the election campaign].
Some ethnic Uzbek politicians used the situation and the Uzbek people to try to further their goals. Many politicians used people, and that resulted in the massacres. Only common people suffered.
But I must say that many [Kyrgyz and Uzbeks] are living together normally, as they were before [the unrest]. In the Osh Oblast districts of Uzgen, Aravan, and Mookat, the relations [between Kyrgyz and Uzbeks and the situation is relatively normal]. However, fear does still exist on both sides.
RFE/RL: What about Osh?

Jeenbekov:
Since the problems started in Osh [and] it was the center of the problems, the situation is not as it is in other places. But it is slowly getting better.
RFE/RL: There are reports that many Uzbeks are leaving the Osh region. Do you have any information on that?

Jeenbekov:
Yes, some Kyrgyz and Uzbek people are leaving Osh. It's a natural process -- people always look for a better place to live and work. It's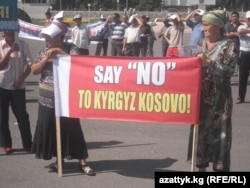 Some Kyrgyz fear the OSCE mission will create a separate Uzbek state, like Kosovo in Serbia.
wrong to say that only Uzbeks are leaving. Lots of Kyrgyz people have gone to villages [outside of Osh], to Bishkek and other places in northern Kyrgyzstan, as well as to Russia. You cannot stop them from leaving.
RFE/RL: Do you think they are leaving permanently?

Jeenbekov:
I don't know. It's up to them.
RFE/RL: Will the out-migration reach a critical point?

Jeenbekov:
I don't think so.
...And Rebuilding Homes

RFE/RL: The Kyrgyz government used to appoint ethnic Uzbek deputies in areas with large Uzbek populations. Does this practice continue?

Jeenbekov:
Yes, it is still exactly like that -- for example my deputy is an ethnic Uzbek. The Aravan, Uzgen, and Kara-Suu districts [which all have large ethnic Uzbek populations] also have Uzbek deputies. And the four other districts [in the Osh region] all have Uzbek representatives in the local governments.
RFE/RL: Is aid being given to the ethnic Uzbeks who lost their homes?

Jeenbekov:
On that issue we have a special state commission responsible for rebuilding Osh and Jalal-Abad. And the chief of that commission is the deputy prime minister. So all money and funds go to that commission [it is not done at the local level].
RFE/RL: Has the money started to come to those who need it?

Jeenbekov:
There was recently an international conference in Bishkek at which donors promised to give around $1 billion. I cannot say when this money is coming to Kyrgyzstan, but at least they pledged it.
Punishing The Guilty

RFE/RL: Can you give an update on the number of people arrested and prosecuted? And to the reports that the police were overreacting and largely arresting only ethnic Uzbeks in the aftermath of the clashes.

Jeenbekov:
Yes, we received this information as well and we tried to act quickly on these reports. But suspicious people should be detained. Some of the most suspicious people [involved in the ethnic clashes] have escaped from the region but are still being sought. Those who were innocent have been released.
In the Osh region more than 1,100 criminal cases have been opened -- that is excluding the [crimes committed in the] city of Osh. But we know of many such cases when people were arrested and later released because they had done nothing wrong.
RFE/RL: What about the businessmen in Osh who have left. Do you think they will return?

Jeenbekov:
We realize that without foreign investment we cannot develop the Kyrgyz economy. And we are trying to explain to all potential foreign investors that we will provide security to them. Most of them are still waiting and I think they are waiting until the parliamentary elections; they want to see if they will be peaceful. After the parliamentary elections I hope [the foreign investors] will come back.
Frankly speaking, it was a real war. Some people are blaming law enforcement forces, but they don't realize that 12 policemen were also killed during the clashes.
RFE/RL: As you know, many guns and weapons were taken from the police and military, can you speak about how they will be retrieved?

Jeenbekov:
Law enforcement agencies are working hard to get all of the weapons back. Lots of people returned them voluntarily. Many of them did not use them but were just carrying them around. They were just scared. Some weapons or guns were even unusable. But it's difficult to say how many of them are left [among the public].
Why Kyrgyz Fear The OSCE

RFE/RL: Can you explain why there has been so much opposition to the OSCE police advisory group being deployed to southern Kyrgyzstan?

Jeenbekov:
There is a problem. Our people here have a fear [of foreign forces].
We haven't properly informed people about the OSCE police force.
In 1990, when Kyrgyz and Uzbeks fought and killed each other, the center of the fighting wasn't in Osh, it was in Uzgen. In Osh in 1990 there were not so many killings and burning of houses like there were this time. In Osh, there were only a few cases of nighttime killings.
Back then it was the Soviet Union and Soviet forces entered the city, considered the situation, and took only one side. Lots of Kyrgyz people were arrested, some were executed, and many were given 20-year prison sentences. The unrest wasn't investigated properly [by the Soviets] and there was little analysis about who was really guilty of committing crimes. And the Kyrgyz people have very strong memories of these events and how the Soviet forces handled the situation.
People who were 20 years old then are only 40 now, and many of those people think [a foreign force] will come and do the same thing: only Kyrgyz people will be arrested and executed. This is one factor.
Secondly, there should be a proper explanation of why this OSCE police force is coming to Kyrgyzstan. For instance, I, as governor, have little idea of what this OSCE police force is supposed to do.
There is talk on television that the OSCE mission is coming. But even if I don't fully understand its mission, and if I haven't seen any agreement on it, how can ordinary people understand?
We haven't properly informed people about the OSCE police force. We say they will come and consult, but still there is a big protest among people about their deployment, we have to keep that in mind. We have to consider that the majority is opposed to the OSCE police.
But if it is the correct decision to bring them, then the people will ultimately understand it.
There is still danger in Osh. People feel this in their hearts and we have to remove the fear.