Osh Mayor Melis Myrzakmatov has left confusion in his wake after his recent trip to the capital, and returned home more defiant than ever.
Myrzakmatov had been in the capital Bishkek since August 18 to attend a conference on rebuilding southern Kyrgyzstan following interethnic violence in June that left hundreds dead and forced hundreds of thousands from their homes.
While away from Osh, rumors spread that Myrzakmatov -- one of the last allies of former President Kurmanbek Bakiev, who was ousted in April, to remain in government -- had been arrested and dismissed from his presidentially appointed post.
As the news spread, a crowd that swelled to some 2,000 people assembled in front of the mayor's office in Osh, calling for Myrzakmatov's reinstatement and the resignation of President Roza Otunbaeva and her government.
Today, the crowd enthusiastically greeted the man they have been calling a "hero."
Addressing the crowd, Myrzakmatov gave assurances that he had no intention of leaving, but did claim the government had forcibly detained him in Bishkek and offered him several positions in the interim government.
"They kept me in Bishkek for three days, saying that [Uzbek President Islam] Karimov wants me to resign," Myrzakmatov said.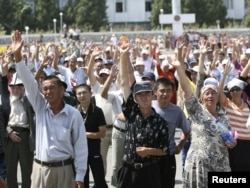 Supporters of Myrzakmatov rally in central Osh.
He described Karimov as "a leader of the whole Muslim world and of Central Asia. He will never say that I should resign. He would never go along with the current powerless [Kyrgyz] government."
According to Myrzakmatov, when ethnic Uzbeks fled southern Kyrgyzstan during the June violence for Uzbekistan Karimov told them: "'No, you are one nation with Kyrgyz, you are living in their land and therefore you have to go back.' I would never believe that Karimov has said that I should resign."
Earlier, protesters attacked Labor Minister Aigul Ryskulova, who had been sent to calm the crowd. The minister was whisked away in a car by security.
Myrzakmatov, a member of Bakiev's Ak-Jol party, also addressed his former ties to the ousted Kyrgyz president. Saying the government in Bishkek called "people who worked with Bakiev bad," he asked the crowd, "Are they any better?"
Myrzakmatov said many people in the new government also worked with Bakiev, a thinly veiled reference to President Otunbaeva, who was acting foreign minister under Bakiev for about half a year.
Myrzakmatov appeared in Osh with Deputy Prime Minister Azimbek Beknazarov, who told the crowd he supported Myrzakmatov and had "several times" told Otunbaeva that during June's riots in the south, "when all the generals hid, only Myrzakmatov addressed the situation."
How Firm Is Support?
At the protests' peak, thousands of people assembled on the square outside the Osh mayor's office in recent days, but it is difficult to gauge just how deep their support for Myrzakmatov really is.
Reports on state television have claimed that Myrzakmatov was paying people to come out and rally on his behalf, a claim that one unidentified speaker at the August 20 rally dismissed as a "lie."
Since the parliamentary elections of 2005, there have been reports -- and even admissions from some protesters -- that they received money to attend rallies. As recently as April this year, for example, ousted President Bakiev's people were offering 7,000 soms (about $167) to every carload of people who traveled to a planned Osh rally of support for Bakiev.
But the speaker at the August 20 rally explained simply that many had assembled to show their support for the mayor because they had lost loved ones or property in the June violence.
Myrzakmatov has gained support for his frequent pledges to determine the whereabouts of Kyrgyz who remain missing after the June violence, and through his resistance to the authorities in Bishkek.
On August 19, the Russian newspaper "Kommersant" published an interview with Myrzakmatov in which the Osh mayor said, "directives of the temporary government have no judicial force in the south of the country."

Government Toothless In South?
Former Kyrgyz Security Council Secretary Alik Orozov was quoted by the Kyrgyz online news agency 24.kg as saying Myrzakmatov promised in the evening of August 19 to return to Osh and tell the crowd he was voluntarily stepping down from his post.
A woman with a portrait of the mayor takes part in the rally.
Orozov, who officially was relieved of his post today, said that "as far as I knew, the government did not plan to dismiss Melis Myrzakmatov in the near future," adding that a decision about him would probably only come after the October 10 parliamentary elections. "He unexpectedly stated the wish to leave his post, on his own initiative," Orozov was quoted as saying.
If Myrzakmatov did, in fact, make such an offer, it now appears to have been disingenuous.
Today's events follow what appears to have been a tense meeting between Myrzakmatov and officials in Bishkek. Osh Deputy Mayor Taalai Sabirov told the crowd outside Myrzakmatov's office on August 19 that when in Bishkek, Myrzakmatov told the government to "sign your decree [dismissing him], if you are able to do so."
Paul Quinn-Judge, Bishkek-based Central Asia director for the International Crisis Group, says that Myrzakmatov's ability to fend off the government in Bishkek and return to Osh poses "another setback for the provisional government, more humiliating than other setbacks" it has suffered already.
Quinn-Judge also believes the inability of the authorities in Bishkek to dismiss Myrzakmatov "confirms the fact that the government does not control the situation in the south."

New Front For Discord
The new Kyrgyz government faces a challenge from the north as well.
Supporters of Urmat Baryktabasov, a politician from the northeastern Issyk-Kul province who was arrested after he led a protest march to the capital earlier this month, gathered outside the National Security Service in Bishkek today to demand his release.
Baryktabasov was arrested as he and several hundred of his supporters marched from Issyk-Kul to Bishkek in early August to voice a number of demands, including that Baryktabasov be named prime minister. Scores of his supporters held a similar demonstration in the capital itself.
Issyk-Kul has been a hotbed of protest since 2005, causing major problems for previous governments.
written by Bruce Pannier in Prague, with material from RFE/RL's Kyrgyz Service