Rakhat Aliev is the former son-in-law of Kazakh President Nursultan Nazarbaev and former senior official in the Kazakh government. However, for the last three years, he has been in open conflict with Nazarbaev, and he recently published a scandalous tell-all book about the long-time Kazakh leader entitled "Godfather-In-Law."
Aliev recently spoke by phone from Vienna, where he is in self-imposed exile, with RFE/RL Russian Service correspondent Andrei Shary.
RFE/RL: Why did you write this book? Many commentators are saying it is an act of personal revenge against the president of Kazakhstan. Is this true?Rakhat Aliev:
I have to disappoint such commentators. Both in the West and in the East very little is known about the countries of Central Asia, and about the authoritarian leaders that have ruled there -- including in Kazakhstan -- for the last 20 years. But it wasn't easy for me to write this book, since until quite recently my connection with the president of Kazakhstan has been not just professional, but a family tie.
We have known each other for more than 25 years, beginning way before Nursultan Nazarbaev became president of Kazakhstan. It was way back in 1983 when Nazarbaev had only just moved from the Karagan Oblast committee to Alma Ata and began working in the Central Committee of the Communist Party of Kazakhstan. And for me this was something of a milestone.
Before my very eyes, this leader, for whom we were all working, began turning away from the obligations he had undertaken before the country and the constitution, when the murders of opposition leaders began. In particular, one such milestone came in February 2006 which is when, I would say, our two paths split because I could not allow myself to continue standing with a leader who would use any legitimate and illegitimate methods. I would say that from that moment, a sort of banal, criminal governing system was formed.
RFE/RL: Let me understand your position. You consider the president of Kazakhstan to be politically and legally responsible for the murders or disappearances of opposition leaders in Kazakhstan?Aliev:
Yes, you understand correctly. The president of Kazakhstan, as the head of state, is responsible for those crimes that have been taking place in Kazakhstan, for all those crimes. Foremost, I am thinking of the murder of opposition leader and former Kazakh Ambassador to Russia Altynbek Sarsenbaev. He was de facto executed for dissent, for his political opposition to the regime.
RFE/RL: You said, "the leader for whom we were all working," in reference to Nazarbaev. You were part of this system. What can you say about your place in the system that Nazarbaev created with your help?
Aliev:
I don't deny this. Before 2002, when I was called into government by Nazarbaev himself, I -- like many of my comrades who worked in business and had practical experience in market economics -- we were a group of young people, businessmen, who had been educated in Moscow.
Many of us had finished graduate studies and had doctorates. We had fairly successful businesses and Nazarbaev really need to replace the patriarchal communist bureaucracy with managers who were capable of reforming the Kazakh economy and putting it on market foundations. Nazarbaev's wisdom is clear in that he was able to recruit young people and place them as deputy ministers and ministers. In the course of three or four years, we effectively reformed the state-monopoly, state-planned economy.
RFE/RL: You are a doctor of medicine and of economics, a former major general, and a former ambassador. If you had not been a relative of the president, do you think you would have been able to achieve such things in Nazarbaev's Kazakhstan?Aliev:
Again I think I have to disappoint the commentators and you specifically. My father served for a long time as health minister in the 1980s. He was an academic, a doctor, a surgeon, and I followed in his footsteps. University, graduate school, a doctorate. I graduated in Russia precisely in order to avoid, let's say, accusations and gossip to the effect that I had been helped by my high-ranking relatives or those of my wife.
This includes my candidate's degree, which I completed at the Second Moscow Medical Institute, and my doctorate, which I completed in Omsk. It also includes my doctorate in economics, which I completed in Moscow. I cannot say that in certain matters I did not receive support from Nazarbaev. Of course, he, as head of state, created productive circumstances for my work. But this was based exclusively on… I would say it was a 50-50 mix of being well-disposed to me and genuine demand.
He didn't just put me in various positions, but he gave me concrete tasks. If I hadn't coped with those tasks, he could have simply removed me from those posts. I always treated my government positions not like some sort of privatized apartment where they give you the key and you just sit there the rest of your life, but rather like a comfortable hotel.
'Revenge'

RFE/RL: But maybe the fact that you ended up disgraced means that in Nazarbaev's opinion you did not cope with these tasks? You were the first deputy secretary of the National Security Committee of Kazakhstan and deputy director of the presidential security service.

Your book is called "The Godfather-In Law" -- with an allusion to the Italian mafia. The mafia always takes its revenge and many people view what is happening now as revenge on the part of your former father-in-law. Do you think you will ever be able to return to Kazakhstan?Aliev:
I don't think that I am in disgrace or am running from Nazarbaev's mafia-like regime. I am free. I live in the European Union, which has a presumption of innocence -- I emphasize this -- where basic human rights are observed, which cannot be said of Kazakhstan. When I was Kazakhstan's ambassador to the OSCE, I submitted the proposal to have Kazakhstan take over the chairmanship of that organization.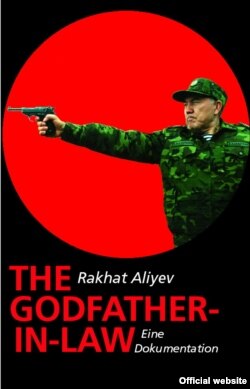 When I was in the National Security Committee and other posts, I understood that there is actually no opposition, as such, in Kazakhstan -- no dissent, no other approaches to the development of the country. There wasn't then and isn't now. And the only possible way of reforming this situation, of pushing Kazakh legislation toward an international level, of implementing international standards -- and I mean primarily Western standards -- would only be possible with the support of an authoritarian leader.
This was at the heart of my idea of Kazakhstan heading the OSCE -- so that Kazakhstan would be pushed into a law on elections, a law on free media, and, of course, signing up to the European Convention on Human Rights.
RFE/RL: In your book you call Nazarbaev a "communist sultan." How do you think this happened to him?Aliev:
I think it is logical to idolize people that you deeply respect. I was among those who genuinely admired Nazarbaev. His political might, his ability to struggle with competitors, his ability to evaluate problems strategically -- this was, after all, the old Soviet party school.
He and [Uzbekistan's Islam] Karimov are just two dinosaurs in the post-Soviet space, people who seized power after the collapse of the Soviet Union. This demonstrates that they really were strong managers. But, I emphasize, that in his bid to create an uncompetitive environment, a lawless environment, to create for himself exclusively rights and placing himself above the 15 million other citizens of Kazakhstan, and by changing the constitution of Kazakhstan in May 2007 -- in doing all this, he became another person.
He became the only citizen of Kazakhstan, the first president of Kazakhstan, and he has the right to be reelected to that position for as long as he lives. I see the tragedy of this in that he keeps flying higher and higher and never comes down to Earth. And to do this he uses criminal means of governing.
If we had a strong civil society, if we had strong opposition parties, any citizen could vote and be elected to any post. But all the seats in our parliament are held by his own personal party. There is no rule of law. All the judges in Kazakhstan, right down to regional judges, are appointed by Nazarbaev. It is literally one-man rule.

RFE/RL: The nervous reaction of the Kazakh authorities to your book demonstrates that the president and his entourage don't really want Kazakh citizens to read it. I'm sure you didn't write everything that you know and that you could write more.

Is it possible to reach a deal with the authorities under which you could return to Kazakhstan with the charges against you dropped? Or will you continue your activity aimed at changing the political environment in Kazakhstan in any case?Aliev:
That's a complicated question. Ever since my relations with Nazarbaev were severed, they never once asked me to testify, to give a video statement responding to the senseless and baseless charges against me. I was sentenced to 40 years in prison in absentia by two courts -- one of which was a closed military court… I was accused of various, so-called crimes. But all this shows that all the criminal accusations that the regime has tried to hang on me are all fiction. It is all falsification, all the charges are made up. Made up primarily by the leadership of the National Security Committee, the prosecutor general, the interior minister, and the whole "power" bloc of ministries.
It is no secret that there are taped telephone conversations -- which I emphasize came from the National Security Committee -- where it is clearly said in black and white that they are preparing a provocation. But I will not say in advance there is no possibility of negotiations. One must use all possibilities in any political process, especially if by doing so you can save one human life. And people are being massively repressed in Kazakhstan. I'm not talking about dozens, but hundreds of people who are sentenced to long prison terms in closed courts, including some of my friends, work associates, and relatives. I will not exclude negotiations aimed at pulling these people out of the National Security Committee's prisons. But I will not compromise my principles.

RFE/RL: Are you currently in contact with your family? Are you in touch with your former wife and your children?Aliev:
In June 2007 a district court in Alma Ata divorced me from my wife in one day. We have three children -- two sons and a daughter, two of whom are minors. Literally in one day, in my absence, without lawyers, everything was decided -- again, I emphasize, by the direct order of Nazarbaev.
From that moment, unfortunately, I have not seen my sons or my daughter or, of course, my former wife. Unfortunately, they are constantly changing their telephone number and so I am not able to contact them. And, of course, I am most of all worried about the fate of my mother, who is in Kazakhstan. They have seized her passport. She cannot travel to Europe to be reunited with her husband, who is in Europe, my father. This matter worries me the most.