If Kazakh President Nursultan Nazarbaev really lives in fear of being betrayed by those within his inner circle -- including his own family -- the recent publication of a tell-all book by his former son-in-law provides ample justification.
In "Godfather-In-Law," former presidential son-in-law Rakhat Aliev reveals what he says are intimate details of Nazarbaev's public and private life, inside information accumulated over years in key government positions, and plenty of family -- and allegedly, state -- secrets.
In the book, Aliev accuses Nazerbaev of being an autocrat, describes alleged methods used to quash political opponents, and dishes out the innermost secrets of the presidential family, including a reported love child with a beauty queen poised to one day take over the presidency.
"[Family] gatherings had a different purpose. The head of the family was vigilantly watching over his throne, making sure that none of his children had grown sufficiently to pose a threat to his own unlimited power. Was everyone respecting and fearing him properly? Was anyone having Jacobin ideas? It isn't hard to imagine that there wasn't a lot of familial warmth and coziness at these Sunday get-togethers."


-- From "Godfather-In-Law," Page 71




Currently living in self-exile in Austria after having been convicted in absentia and sentenced to 40 years in prison on a number of serious charges -- including treason, corruption, and kidnapping -- Aliev has frequently engaged in a long-distance family feud with his one-time father in law, with the 540-page hardback -- published in Russian and German -- being the latest volley.
It appears to have struck close to home.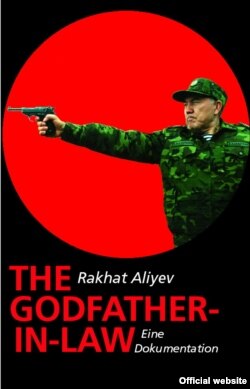 Its publication has led the state to open a new criminal case against Aliev -- this time accusing the author of illegally revealing state secrets.
And this week a Prosecutor-General's Office spokesman, Saparbek Nurpeisov, warned Kazakh citizens that anyone who even touches the book could be prosecuted.
"If we find out that any one of our citizens is involved in possessing, buying, or reproducing this book, they will be prosecuted for collaborating with this criminal, Rakhat Aliev, who is now running from justice," Nurpeisov said. "Apart from that, the book contains state secrets. If individuals are not [officially] allowed access to these secrets, they don't have the right to know the contents of the book."
In his book, Aliev describes himself as a "known politician and successful businessman; the former ambassador of Kazakhstan to Austria as well as the OSCE, UN, and other international organizations in Vienna; the former first deputy of Kazakh Foreign Ministry."
He was also married to Nazarbaev's eldest daughter, Dariga, and enjoyed his status as a member of the ruling elite, until he fell out of the president's favor in 2007.
The book includes what he says are transcripts of Aliev's personal conversations with Nazarbaev. The author says that on at least one occasion he had a hidden recorder in his pocket to secretly tape his conversation with Nazarbaev. The book also reveals the contents of phone conversations between the president and other officials, and what Aliev says are copies of confidential documents and letters, including a number of apparently classified security-service files.
Aliev claims his book, which he calls a "a documentary novel," is entirely based on facts, real people, and real-life events, "no matter how unrealistic these events would appear" to readers.
The book's main character is described this way: "Godfather-in-law Nursultan Nazarbaev, an authoritarian who has usurped power."
Nazarbaev, who has served as independent Kazakhstan's first president since 1991, is also accused by Aliev of having undermined the fledgling country's democracy.
"It was useless to oppose the Godfather-in-Law. His devoted army -- the secret police, his advisers, the courts, the prosecutors, and corrupt journalists -- would go on the attack at the slightest wave of his finger. The constitution ensures him the presidency for life. All the institutions of civil society have been dismantled. Parliament, the courts, the press, and the Internet are all under his total control. The telephones and mail are monitored. The opposition has been liquidated. The fortress of Astana protects him from his own people. An atmosphere of terror guarantees the obedience of the citizenry. The circle has been closed."


-- "Godfather-In-Law," Page 437




The accusations come at a time when the president's record on human rights and media issues has come under intense scrutiny, with Kazakhstan preparing to take over the rotating chairmanship of the Organization for Security and Cooperation in Europe -- Europe's top rights monitoring body -- in January.
When contacted by RFE/RL, the OSCE said it had no one available to comment on the allegations made in Aliev's book.
Aliev appears unmoved by Kazakh officials' harsh reaction to the publication of "Godfather-In-Law." In fact, he told RFE/RL's Kazakh Service that he is convinced that threats to prosecute anyone for possessing, buying, or reproducing his book will only give it "more publicity."
"The launch of yet another criminal case against me and my book confirms once again that all facts in my book are based on credible information and this is absolute truth," he said.
Aliev has maintained that his fall-out with the first family is related to Nazarbaev's move to amend the constitution to make himself president for life.
"Fourteen days before June 1, 2007: The president of the Republic of Kazakhstan pushed a decision to amend the constitution through the parliament, which was under his control. The new constitution gave the only citizen of the country the opportunity to be elected president as many times as he wants. That man is Nursultan Nazarbaev, the incumbent president and my father-in-law. That day put an end to all hope for the democratic development of our country."


-- "Godfather-In-Law," Page 17




Aliev claims he was punished by Nazarbaev for his opposition to the idea of "presidency for life," as well as for his own intention to run for office in presidential elections in 2012.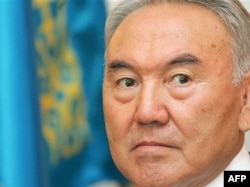 Kazakh President Nursultan Nazarbaev
In his book, Aliev accuses Nazarbaev of employing a variety of methods to eliminate political opponents. One of Nazarbaev's methods, Aliev claims, is to convict and arrest potential presidential contenders. According to Kazakh law, individuals who have been convicted or arrested are prohibited from ever seeking the presidency.
If the book is to be believed, two prominent opposition leaders, Akezhan Kazhegeldin and Galimzhan Zhakiyanov, were eliminated as potential presidential contenders this way.
However, according to Aliev's book, the state resorts to much more brutal ways of dealing with opponents. The author flatly accuses Kazakhstan's security services of murdering prominent opposition figure Altinbek Sarsenbaev and two companions.
Turning back to the president directly, Aliev provides possible insight into Nazarbaev's rumored enormous personal wealth and alleges that the president is obsessed with money.
As to the president's private life, Aliev predicts that Nazarbaev intends to eventually hand over his presidency to a secret son by a secret third wife, a 28-year-old former Miss Kazakhstan. The transfer of power to the "young sultan" will happen in 2035, when he turns 30, Aliev predicts in "Godfather-In-Law."
Aliev's portrayal of the Kazakh president is of a man who went from being a modest and insecure leader to a greedy, fearless, and merciless autocrat.
"He wanted to go down in history as Kazakhstan's Ataturk, as the father of the nation who would be remembered gratefully by generations to come. And he had the chance to do just that. But it was overwhelmed by the love of money, by greed for personal gain, by fear of losing the presidency. He could have relied on the will of his people, but instead he staked all on the machinery of suppression and repression."

-- "Godfather-In-Law," Page 451


RFE/RL correspondent Robert Coalson contributed to this report