TEHRAN (Reuters) -- A pro-reform Iranian clerical group has said the outcome of last month's presidential vote "invalid," even though Supreme Leader Ayatollah Ali Khamenei has upheld the result.
In a sign of a
deepening rift
among Shi'ite clerics, the Association of Researchers and Teachers of Qom also called for the release of Iranians arrested in protests after hard-line President Mahmud Ahmadinejad was declared the winner of the June 12 vote.
"Other candidates' complaints and strong evidence of vote-rigging were ignored,... peaceful protests by Iranians were violently oppressed [and]...dozens of Iranians were killed and hundreds were illegally arrested," said a statement published on the assembly's website. "The outcome is invalid."
Qom is Iran's center of Shi'ite learning, about 125 kilometers south of Tehran.
The assembly has little political influence.
But its statement is a significant act of defiance since Qom is the power base of the clerical establishment.
It follows calls by hard-liners for leaders of the protests, the most striking display of dissent in Iran since the 1979 Islamic revolution, to be put on trial.
Iran's elite Revolutionary Guards on July 5 accused opposition leaders of "trying to overthrow the Islamic establishment."
"We had forecast a velvet revolution. But it was neutralized by our vigilance," the official IRNA news agency quoted General Yadollah Javani as saying.
Iran's police chief said on July 1 that 1,032 people had been detained during the protests in Tehran but most had been freed.
Human Rights activists say as many as 2,000 people, including opposition leaders, professors, journalists, and students, may be still be held across the country.
Journalist Freed
Iran said on July 5 that it had released a Greek journalist covering the election for the "Washington Times," while British Foreign Secretary David Miliband said one of two British Embassy employees detained in Iran would be freed later in the day.
There was no immediate comment from the Iranian Foreign Ministry on the embassy employees, whose arrest led to the summoning of Iranian envoys to European Union countries.
"Because of the humanitarian efforts made by Iran's envoy to Greece...the Greek journalist was released today," Foreign Ministry spokesman Hassan Qashqavi told state television.
Iranian officials deny the election was rigged, saying it was the "healthiest" since the 1979 revolution. They have clamped down on the protests, but opponents say they will not give up.
Qom Response
While some clerics, such as Ayatollah Mohammad Mesbah Yazdi, are aligned with hard-line President Ahmadinejad, at least two grand ayatollahs, dissident Hossein Ali Montazeri, and moderate Yusof Saanei had already criticized the authorities.
"With all these problems, how can the result be recognized as legitimate? How can the next government be recognized as legitimate," the Qom assembly statement said.
Two losing moderate candidates, Mir Hossein Musavi and Mehdi Karrubi, have also said Ahmadinejad's next cabinet would be illegitimate.
"A government which lacks people's backing does not have legitimacy.... Our fight will continue," Karoubi said in a statement published on his website on Sunday.
The hard-line "Kayhan" newspaper said in an editorial: "Musavi and his supporters are dangerous opposition for the establishment."
Hossein Shariatmadari, a top aide to Khamenei, called on July 4 for Musavi and former reformist President Mohammad Khatami to be tried for committing "terrible crimes."
Diplomatic Furor
Iran accuses foreign powers, especially Britain and the United States, of inciting the antigovernment protests to carry out a "velvet" revolution to undermine the Islamic Republic.
Tehran had arrested nine local British embassy staff but seven of them were later released.
On July 3, hard-line cleric Ahmad Jannati, head of the Guardians Council that certified the election result, said the detained British Embassy staffers had confessed and would face trial for inciting street protests.
In response to the detentions, EU countries summoned Iranian envoys and have pledged a strong, collective response to any Iranian harassment of staff at European embassies.
The Battle For Iran's Future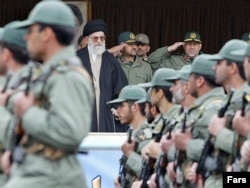 The Battle For Iran's Future
With much more than a disputed presidency at stake for Iranians, RFE/RL's Charles Recknagel and Mazyar Mokfi explore the power plays that could reshape Iran's political establishment.
Click here
for news, blogs, and analysis of the presidential election and aftermath.