TEHRAN (Reuters) -- The head of Iran's judiciary has called for the prosecution of people working for increasingly influential anti-establishment satellite TV channels and websites, state television reported.
"The daily growth of anti-regime satellite channels and...websites needs serious measures to confront this phenomenon," it quoted a circular issued by Ayatollah Mahmud Hashemi Shahrudi as saying.
Iran accused Western powers of interfering in its affairs, after the announcement that hard-line President Mahmud Ahmadinejad had won a landslide victory in the June 12 election prompted protests in which at least 20 people were killed.
The circular, addressed to branches of the judiciary, called for judicial personnel to be assigned to deal with such violations.
"Those who cooperate with such websites and television channels will face prosecution," Hashemi Shahrudi said.
For the first time in Iran, foreign-based satellite TV channels, particularly the BBC's Persian TV, and blogs played a big part in providing news and comment about the election.
Iranians are more used to hearing political messages blared through loudspeakers on small trucks, seeing gaudy posters and being herded to campaign rallies.
The BBC launched its Persian TV service in January, funded with 15 million pounds ($25 million) a year of British government money. The BBC increased the number of satellites carrying the service after Iran interfered with transmission during the election.
Iran expelled the BBC's correspondent in Tehran because of the broadcaster's election coverage, and Supreme Leader Ayatollah Ali Khamenei has called Britain the "most treacherous" of Iran's enemies.
Popular social-networking and content-sharing site Facebook was blocked in Iran on May 23, joining political and human rights websites which had already been blocked. More than 150,000 Iranians are Facebook members.
More than 23 million of Iran's 70 million people have access to the Internet, and over 45 million have mobile phones.
Two losing contenders in the presidential election have unleashed fierce attacks on the official outcome of the vote. Moderate former Prime Minister Mir Hossein Musavi and reformist cleric Mehdi Karrubi also say the government wants to force Iranians to rely on state-run media, which they say favor Ahmadinejad.
Both men issued statements on their websites saying Ahmadinejad's new government would be "illegitimate" -- even though Khamenei, the Islamic Republic's ultimate arbiter, has upheld the result and thrown his weight behind the president.
Iran Election Special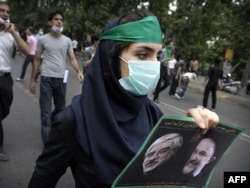 RFE/RL's Full Coverage
Following the disputed reelection of Iranian President Mahmud Ahmadinejad, supporters of Mir Hossein Musavi have taken to the streets to protest.
Click here
for news, blogs, and analysis of the presidential election and aftermath.