TEHRAN (Reuters) -- Iran released local British embassy employee Hossein Rassam on bail on July 19, his lawyer said, three weeks after he was detained on charges of inciting unrest after the country's disputed presidential election.
The bail for Rassam, chief analyst at the British embassy in Tehran, was set at almost $100,000, lawyer Abdolsamad Khorramshahi said.
Rassam was the last employee still in detention out of nine Iranian British embassy staff held late last month for alleged involvement in mass street protests following the June 12 election, which defeated pro-reform candidates say was rigged.
"He was released...he was handed over to me," Khorramshahi told Reuters. Rassam's wife was also at Tehran's Evin jail to meet her husband.
"He is fine...we are together and talking to him right now," the lawyer said, adding they were on their way home.
Hardline Iranian media have said Rassam played a key role in post-election unrest last month and his arrest shed new light on Britain's "subversive activities."
British Foreign Secretary David Miliband welcomed Rassam's release but said his detention had been unjustified.
Britain denies Iranian accusations that embassy staff were involved in instigating mass demonstrations over the election.
"The detention of embassy staff was completely unjustified. I am confident that none of them were involved in any improper behaviour," Miliband said.
Opposition candidate Mir Hossein Musavi says the vote was rigged in favour of hardline President Mahmoud Ahmadinejad, who rejects the charge.
The election stirred the most striking display of internal unrest in Iran, the world's fifth biggest oil exporter, since the 1979 revolution and exposed deep rifts in its ruling elite.
At least 20 people died in postelection violence, for which Musavi and the authorities blamed each other. Riot police and religious Basij militia eventually suppressed June's street demonstrations, but Mousavi has remained defiant.
The unrest has further strained ties between Iran and the West, already at odds over Tehran's nuclear program. Western powers criticised the crackdown, and Iran accused them of meddling.
The government has portrayed the mass protests as the work of local subversives, or "rioters," and Western powers seeking to topple the Islamic establishment.
Rights groups say hundreds of people, including senior pro-reform politicians, journalists, activists and lawyers, have been detained by the authorities since the election.
Iran Election Special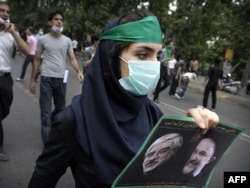 RFE/RL's Full Coverage
Following the disputed reelection of Iranian President Mahmud Ahmadinejad, supporters of Mir Hossein Musavi have taken to the streets to protest.
Click here
for news, blogs, and analysis of the presidential election and aftermath.
Iran Election Diary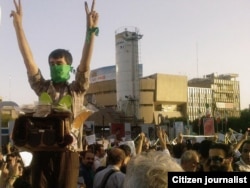 Disputed Presidential Vote
There have been protests and clashes with police on the streets of Tehran following the disputed reelection of Mahmud Ahmadinejad. RFE/RL collects videos, photos, and messages on social-networking sites coming out of Iran to attempt to get a picture of what is happening inside the country.
Click here