Iran Says U.S. Journalist Worked Illegally In Country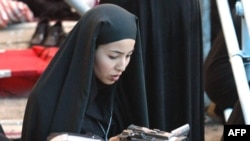 Iran says a U.S. freelance journalist, whose father said was detained more than a month ago, had been working illegally in the Islamic republic.
The father of Roxana Saberi says his daughter has been held in Iran since January 31, ostensibly for buying a bottle of wine, and that there had been no information about her for more than two weeks.
Saberi, a 31-year-old Iranian-American born in the United States, has reported for the BBC, National Public Radio, and other media.
Asked about the case, Iranian Foreign Ministry spokesman Hassan Qashqavi said her press card was withdrawn about two years ago.
"She should not have engaged in collecting news and information illegally," Qashqavi said.
Read more of the Reuters story here.
About This Blog
"Watchdog" is a blog with a singular mission -- to monitor the latest developments concerning human rights, civil society, and press freedom. We'll pay particular attention to reports concerning countries in RFE/RL's broadcast region.
Journalists In Trouble
RFE/RL journalists take risks, face threats, and make sacrifices every day in an effort to gather the news. Our "Journalists In Trouble" page recognizes their courage and conviction, and documents the high price that many have paid simply for doing their jobs. More