TEHRAN (Reuters) -- An ally of Iranian opposition leader Mir Hossein Musavi has said 72 people were killed in the street protests that erupted after the disputed June presidential election, a reformist website has reported.
The death toll provided by Alireza Hosseini Beheshti showed an increase of three compared to an estimate he gave on August 11.
The authorities, who have blamed the opposition for the bloodshed, say at least 26 people were killed in the unrest. They say several members of the pro-government Islamic Basij militia were among those killed.
"The latest number of victims in the street protests reached 72," Beheshti was quoted as saying by the "Mosharekat" website.
The election, which was followed by huge opposition protests, plunged Iran into its deepest internal crisis since the 1979 Islamic Revolution.
The moderate opposition says the ballot was rigged to secure hard-line President Mahmud Ahmadinejad's reelection. Officials deny this.
Beheshti is a member of a committee set up by the opposition to investigate the fate of people caught up in the unrest.
Human rights groups say thousands of people, including senior opposition figures, were arrested after the election. Many remain in jail.
Iran has begun mass trials of leading moderates accused of fomenting protests in a bid to undermine the Islamic republic's clerical leadership.
The authorities have blamed the postelection violence on "rioters," accusing them of attacking government buildings and destroying public property.
Iran Election Special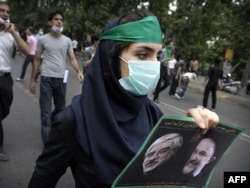 RFE/RL's Full Coverage
Following the disputed reelection of Iranian President Mahmud Ahmadinejad, supporters of Mir Hossein Musavi have taken to the streets to protest.
Click here
for news, blogs, and analysis of the presidential election and aftermath.