It began as a silent march to mark the 10th anniversary of the 1999 student uprising that shook Iran and was violently suppressed by authorities.
But the scattered rallies on July 9 quickly turned into the most significant mass demonstration in the Iranian capital since security forces last month crushed opposition protests against the presidential election that even
conservative clerics
have come to denounce.
Many people clapped their hands and honked their car horns in downtown Tehran. Some chanted slogans in support of Iran's former prime minister and main presidential challenger, Mir Hossein Musavi.
Iranian authorities eventually fired tear gas to disperse what eyewitnesses said were thousands of pro-reform protesters at a number of different locations in the city.
But the message was clear, according to one 23-year-old demonstrator who spoke to RFE/RL. "We're here and we're still upset, and we will keep protesting," the protester said.
'We Live And Fight'
France-based journalist Hossein Bastani, a member of the editorial board of the online publication "Rooz," says the protest is significant even though the numbers involved were much smaller than the hundreds of thousands who took part in last month's demonstrations.
"The postelection repression has been maybe unprecedented since the 1980-88 war with Iraq," Bastani said, "so the fact that so many people came to the streets -- despite the crackdown -- indicates the protests that have been created in Iran after the June vote are not going to be easily controlled by the establishment."
A woman who took part told RFE/RL's Radio Farda that the crackdown had made some people even more defiant and determined to continue their protests, which she insisted was their right.
"We don't need [authorities] to give us permission," she said. "They rule the way they want and we live and fight."
She said one of her young relatives had been arrested two days after the election that critics claim was rigged in favor of incumbent President Mahmud Ahmadinejad, simply because he possessed a statement by Musavi.
"Is Musavi from the moon? [His candidacy] was confirmed by the Guardians Council. A 21-year-old student has been in jail for almost a month," the woman said. "I'm a mother who is terribly upset; these are all my children."
Political Intrigue
Street protests were also reported other parts of Iran, including in northern Rasht.
The July 9 protest was the first major street demonstration in Tehran in nearly two weeks, although frustrated Iranians have continued their nightly shouts of "God is great!" from rooftops.
It also appeared to mark the first time since the postelection crisis began that protesters chanted slogans against Mojtaba Khamenei, a son of Iranian Supreme leader Ayatollah Khamenei who is also said to have played a key role in the election of Ahmadinejad and the postelection crackdown.
"Mojtaba, may you die and not become the supreme leader," they shouted.
There has been speculation that the 70-year-old Khamenei is moving to position Mojtaba to succeed him despite his apparent lack of religious qualification for the post.
Whether such jockeying for Mojtaba Khamenei's elevation to supreme leader has already begun on Iran's murky political scene is difficult to gauge. But the existence of the chant suggests some people believe so.
Unusual Times
Bastani says that "under normal conditions" few would believe that Mojtaba Khamenei, who has never played a very prominent public role, could become Iran's future supreme leader.
"The reason some believe such a possibility now is because people have seen in the June vote how previously impossible things are becoming possible in Iran," Bastani says. "Because of that, yesterday we saw people chanting slogans against Mojtaba Khamenei's succession, which maybe a month ago sounded like a joke -- but people now feel that even very bitter jokes in Iran can come true in time."
Bastani and other analysts say the protests in Iran are likely to continue in different forms and at unpredictable times and occasions.
But they also say the diminishing numbers might indicate that the protest movement could fade away if opposition leaders lose steam.
As if to preempt such fears, some Tehran residents insisted to RFE/RL that the "God is great!" chants were louder than usual over the capital within hours of the July 9 street protests.
The Battle For Iran's Future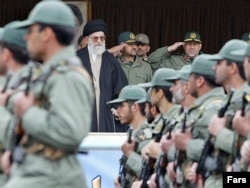 The Battle For Iran's Future
With much more than a disputed presidency at stake for Iranians, RFE/RL's Charles Recknagel and Mazyar Mokfi explore the power plays that could reshape Iran's political establishment.
Click here
for news, blogs, and analysis of the presidential election and aftermath.
Iran Election Special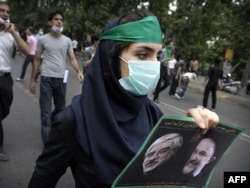 RFE/RL's Full Coverage
Following the disputed reelection of Iranian President Mahmud Ahmadinejad, supporters of Mir Hossein Musavi have taken to the streets to protest.
Click here
for news, blogs, and analysis of the presidential election and aftermath.