Army mutineers stage a deadly shoot-out with Georgian police. Opposition protesters paralyze Tbilisi with noisy street protests. Russia masses more and more troops and arms near the border.
As Georgia
marked Independence Day
, it looked increasingly like a country on the brink. Mushrooming discontent with the leadership of President Mikheil Saakashvili has sparked a debilitating political crisis that is escalating just as fears mount that another armed conflict with neighboring Russia could be looming on the horizon.
Georgian officials and some Western diplomats have been issuing increasingly dire warnings that the Kremlin -- which has made no secret of its desire to see Saakashvili deposed -- is laying the groundwork for an invasion, less than a year after the two countries fought a five-day war last August.
"Russia did not accomplish its goals in the first war," Baku-based political analyst Shahin Abbasov said in a recent appearance on RFE/RL's "Caucasus Crossroads" program.
"The goal was not the independence of Abkhazia and South Ossetia. The goal was to shut the West out of Georgia and the entire region. That goal was not achieved," Abbasov said. "I don't know how the situation is going to develop, but I would not rule out further escalation."
Analysts and officials say Russia's recent saber-rattling is just part of a comprehensive strategy designed to intimidate and destabilize Georgia in order to force it to be more compliant with Moscow's foreign-policy priorities.
That means maintaining Russia's sphere of influence in the region, keeping NATO and the West out, and securing Moscow's control over strategically vital energy routes.
In addition to its military moves, Georgian officials allege that Moscow is also supporting -- and perhaps indirectly financing -- at least some of the opposition figures who have all but shut down Tbilisi with street demonstrations calling for Saakashvili to step down.

Tanks, Troops, And Attack Helicopters
The Kremlin understands that given the allergy Georgians have to Russian domination, it would be prohibitively costly to try to impose an openly pro-Moscow government on Tbilisi by force. The next best option for Russia, according to Caucasus-watchers, is to scare the Georgians into removing Saakashvili themselves and replacing him with a more pliant leader.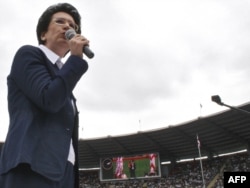 Opposition leader Nino Burjanadze speaks at an opposition rally in Tbilisi on May 26.
And with Saakashvili severely weakened politically and Georgia's bid to join NATO on hold indefinitely, analysts say the mere threat of an invasion may be sufficient to achieve Moscow's goals.
"The easiest thing to do is to destabilize the country and make it unviable as a member state in any sort of organizations. It is much easier than having to prop up a government," says Lawrence Sheets, head of the International Crisis Group's Tbilisi office.
Despite pro forma public denials that it plans to invade, Russia is doing very little to dispel the impression that it is gearing up for military action.
It has deployed T-90 tanks armed with missile launchers to its forces in the pro-Moscow separatist regions of Abkhazia and South Ossetia, where approximately 10,000 troops are currently stationed. The 58th Army, which spearheaded Russia's incursion into Georgia last August, has also procured six new Mi-28N Night Hunter attack helicopters.
Moscow has announced plans to open military bases in Gudauta, Abkhazia and Tskhinvali, South Ossetia that will house thousands of additional troops. Moreover, Russia has signed a deal with both regions to patrol their de facto borders with Georgia.
And perhaps most ominously, Russia will stage the "Kavkaz-2009" military maneuvers, its biggest exercises since the breakup of the Soviet Union, in the Caucasus region near the Georgian border in June.
Prior to Russia's five-day war with Georgia last year, it conducted similar exercises in the region.
Abkhazia has also given Russia control over its airport and railway system for a 10-year period.
"They are not only bringing additional units into the occupied zones, but there is also intensive work on the military infrastructure," Georgian Defense Minister Vasil Sikharulidze said in a recent interview with RFE/RL.
"This concerns us and may lead us to the thinking that they may be preparing some military action."
Scare Tactics
In a recent op-ed published in "The New York Times," former U.S. Ambassadors to Georgia William Courtney and Kenneth Yalowitz, and Denis Corboy, the former European Commission ambassador to Georgia, warned that evidence was mounting that Russia was planning a fresh military offensive.
Analysts say the threat of armed conflict is greatest in the summer months, since the cold weather and rugged mountain terrain makes military operations in the region difficult in the autumn and winter.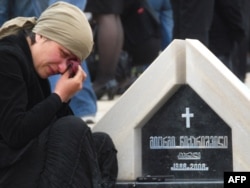 A woman cries at the grave of a soldier who was killed in the war with Russia during the opening of the Mukhadverdi memorial in Tbilisi.
"The situation is very, very dangerous," Moscow-based defense analyst Pavel Felgenhauer tells RFE/RL's North Caucasus Service. "We can't say that there is a 100 percent possibility that there will be a war. But until the end of September, when the weather makes it impossible, it is extremely possible."
Georgia's opposition, which is staging a fresh wave of antigovernment rallies for the May 26 Independence Day holiday, accuses the government of stoking fears of a Russian invasion to distract attention from domestic discontent.
"The [Georgian] authorities are regularly attempting to frighten people," says Tbilisi-based political analyst Paata Zakareishvili, who is sympathetic to the opposition.
"They are saying that if things don't calm down, if the opposition and the government aren't united, then Russia will use this moment to provoke an armed conflict."
When soldiers at a military base near Tbilisi attempted to stage a mutiny on May 5, Georgian officials called the move part of a larger Russian-backed bid to foment rebellion against the government. The opposition rejected the claim and Russia dismissed it as "insane."
One of the mutiny's alleged ringleaders was killed and two others wounded in a shoot-out with police on May 21.
A Big Margin For Error
Analysts say Russia would prefer to impose a so-called Armenia model on Georgia, a reference to Yerevan's traditional fealty to Moscow in foreign affairs. At the very least, the Kremlin would like to return to the situation that existed prior to the 2003 Rose Revolution under former Georgian President Eduard Shevardnadze, when Moscow had a virtual veto over key foreign-affairs cabinet posts.
Lincoln Mitchell, a professor of international politics at Columbia University and author of the book "Uncertain Democracy: U.S. Foreign Policy and Georgia's Rose Revolution," says Russia's most likely strategy is to keep the pressure on and let the political situation in Georgia deteriorate.
"Russia has a pretty big margin of error in Georgia now," Mitchell says.
"Why would they start a war and jeopardize that. The status quo is pretty good for them and there are a number of opposition leaders who, if they come to power, would be good for them also. Now, I want to be clear, that's not the case for all opposition leaders."
Saakashvili and his allies, as well as several analysts, have alleged that opposition leader and former parliament speaker Nino Burjanadze -- who has close ties to the pro-Kremlin Georgian diaspora in Moscow -- is Russia's preferred candidate for a pliant leader.
Burjanadze found herself in the midst of a controversy in March when police arrested 10 members of her party, the Democratic Movement-United Georgia, on charges of illegally purchasing automatic weapons on the eve of antigovernment protests.
Russia is fiercely opposed to another leading opposition figure, former Ambassador to the United Nations Irakli Alasania, who has strong ties to the United States and would probably continue to steer Georgia in a pro-Western direction -- albeit without Saakashvili's trademark drama.
"They want a country whose foreign policy doesn't veer too far from what Moscow wants," Mitchell says.
"That's what they want in Tbilisi. They're not going to get it with a Saakashvili presidency. They're not going to get it with an Alasania presidency. They might with some of the other members of the opposition."