Russia's ambassador to NATO, Dmitry Rogozin, has announced that Moscow was pulling out of a meeting of the Russia-NATO Council in Brussels scheduled for May 18-19.
The move comes just a week after Russia and NATO resumed contact after a season of isolation following the August 2008 Russia-Georgia war.
Rogozin quoted Russian Foreign Minister Sergei Lavrov as saying any future talks would be "inappropriate" in light of the tension over scheduled NATO exercises in Georgia, due to start on May 6.
NATO Secretary-General Jaap de Hoop Scheffer expressed "regret" over the decision.
It has yet to be seen if Russia's announcement -- or the
apparent uprising
at a Georgian military base, which ended without incident but which sparked allegations of Russian backing -- will have a chilling effect on the exercises, which are part of NATO's Partnership For Peace program.
The exercises, which will rehearse scenarios relating to counterterrorism operations and coping with the possible use of weapons of mass destruction, have been planned since early last year.
Carmen Romero, NATO's deputy spokeswoman, said the exercises "are still on and will take place in Georgia as planned."
"This an exercise that was planned long in advance, even before the crisis between Russia and Georgia," she said. "NATO has been very transparent with Russia because Russia is one of the partners of NATO."
Nineteen countries -- including several former Soviet republics and former Soviet satellite states -- are due to participate in the monthlong NATO-led training exercise in Georgia.

Rough Path Toward A 'Reset'
However, in the wake of the August 2008 war between Russia and Georgia and with tensions in the region remaining high, Moscow has denounced the exercises as a potentially destabilizing provocation.
"The NATO exercises in Georgia planned for the period from May 6 to June 1 of this year -- no matter how they try to convince us of the contrary, our Western partners -- are essentially a blatant provocation," Russian President Dmitry Medvedev said at a Moscow press conference last week.
But the Georgia maneuvers are just the latest bump in the road.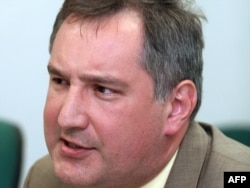 Russian Ambassador to NATO Dmitry Rogozin
Last week, just as the Russia-NATO Council resumed meetings interrupted by the Georgia-Russia war, NATO announced that it was
expelling two members
of the Russian delegation for alleged espionage. One of the expelled diplomats was Vasily Chizhov, son of Russian EU Ambassador Vladimir Chizhov, leading to speculation that the dispute could also further complicate Moscow's relations with the European Union.
Rogozin denied the allegations and blamed the spy spat on forces in the West that wish to disrupt the alliance's relations with Moscow. "It is my belief that someone in the West is very unhappy with the way relations between Russia and certain Western European countries are developing and does not want a 'reset' in our relations with the United States and European countries to take place," he said.
Rogozin also denounced the expulsion as "a pure provocation." Western countries are now waiting to see what Moscow's response will be and which NATO countries it will target for possible tit-for-tat expulsions.
Relations between the Kremlin and NATO took an additional blow last week when Russian signed agreements with the breakaway Georgian regions of Abkhazia and South Ossetia under which Russian border guards would help secure those region's borders with Georgia. NATO subsequently criticized those pacts as a violation of Russia's commitments under EU-brokered conflict-regulation agreements following the August conflict.
"We consider this step to be very problematic," the EU's South Caucasus envoy, Peter Semneby, told RFE/RL. "And it is problematic with respect to the commitments in the six-point plan, it is problematic with respect to the Geneva talks, and it complicates very much any efforts to find a solution to the conflicts."
At the same time, Moscow's ties with the EU are being tested in the run-up to a Russia-EU summit in Khabarovsk later this month. The Czech EU presidency is hosting a summit this week with six former Soviet republics aimed at intensifying relations with them. Russian Foreign Minister Lavrov has criticized the Eastern Partnership program and warned the EU to "not get in the way of the post-Soviet area."
Competing Spheres
All this comes just months after U.S. Vice President Joe Biden called for "resetting" U.S.-Russian relations and Lavrov and U.S. Secretary of State Hillary Clinton were pledging to roll up their sleeves and get down to work. At the beginning of last month, U.S. President Barack Obama and Medvedev held cordial talks in London and agreed to sweeping talks on reducing strategic nuclear weapons.
Andrew Wilson, a London-based analyst with the Center for European Policy Studies, attributes some of the current tensions to the new U.S. administration's focus on global issues in its relations with Russia.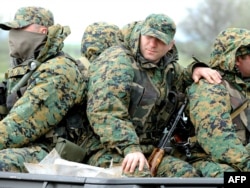 Georgian police on the way to a base outside Tbilisi, which was reportedly the scene of an army mutiny.
"Washington's strategy very much seems to be to focus on sort of global realpolitik with Russia with the clear implication that matters in the eastern neighborhood ought to be more the concern of the EU, or EU member states," Wilson says. "So the danger was always that Russia would take advantage of that relative lack of attention."
Wilson says now that NATO enlargement seems to be on the back burner, Russia is taking a harder line opposing EU engagement in what Moscow views as its sphere of influence. Wilson says Lavrov's response to the Eastern Partnership plan was "intemperate" -- essentially accusing the EU of setting up "a sphere of influence within Russia's sphere of influence."
Some observers in Russia, however, speculated that the spy scandal could have been the result of infighting within Russia's ruling elite. Analyst Aleksei Malashenko, of the Moscow Carnegie Center, told "The Moscow Times" the incident could have been orchestrated from Moscow by "forces in the Kremlin that are against resetting ties."
Nonetheless, despite the conflicts and heated rhetoric of recent days, Wilson is convinced the will to move forward with improved relations between Russia and NATO and between Russia and the West generally remains.
"The finger is still on the reset button," he says. "I don't think any of these problems are likely to derail recent improvements."