TEHRAN (Reuters) -- The father of an Iranian-American journalist jailed by Iran on charges of spying for the United States has said he feared for her life almost a week after she went on
hunger strike
.
Reza Saberi said he and his wife Akiko visited their daughter Roxana in Tehran's Evin jail on April 26, taking flowers for her 32nd birthday.
"She is very, very weak and frail...she is in a bad condition. She can hardly stand up," he told Reuters. "I'm worried about her health. I'm worried about her life."
The 68-year-old said he had asked his daughter to stop her action, but she did not want to discuss it during the 20-minute visit. She started refusing food on April 21, he said.
The U.S.-born freelance reporter was sentenced to eight years in jail on April 18, in a verdict that could complicate Washington's efforts towards reconciliation with Iran after three decades of mutual mistrust.
Her defense lawyer Abdolsamad Khorramshahi, who has appealed the sentence, said he expected the case to be sent to a higher court this week and suggested it may be examined soon.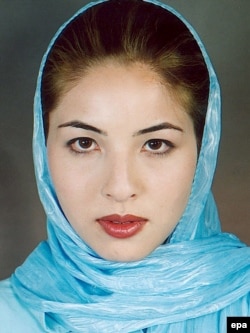 Roxana Saberi
He has expressed hope she would be acquitted after President Mahmud Ahmadinejad called on the prosecutor to ensure Saberi enjoys full legal rights to defend herself. The judiciary chief has said the appeal must be dealt with in a "quick and fair way".
Khorramshahi told Reuters: "Since there is an order for speedy consideration of the case... there is every possibility that it will be dealt with on an emergency basis."
Ebadi Joins Defense Team
A citizen of both the United States and Iran, Saberi was arrested in late January for working in the Islamic republic after her press credentials had expired. She was later charged with espionage.
The United States says the charges against Saberi, who has worked for the BBC and the U.S. National Public Radio, are baseless and has demanded her immediate release.
U.S. President Barack Obama has expressed deep concern for Saberi's safety and Secretary of State Hillary Clinton has said releasing her would serve as a goodwill gesture.
Tehran, which does not recognize dual nationality, says Washington should respect the independence of Iran's judiciary.
Iran's Foreign Ministry spokesman said Saberi's case must be dealt with according to the country's laws.
"Her case has got nothing to do with foreign countries," Hassan Qashqavi told a news conference. "When she is an Iranian citizen all arguments raised by foreigners have no meaning," he said in comments translated by Iran's English-language Press TV.
Iranian human rights lawyer Shirin Ebadi had agreed to help defend Saberi but prison officials refused to let a member of Ebadi's team see their client on April 26, said an aide of the 2003 Nobel Peace Prize laureate.
Reporters Without Borders, the Paris-based media rights group, has called Saberi's conviction "unjust under the Iranian Criminal Code", saying it was a warning to foreign reporters working in Iran before its presidential election in June.
Amnesty International said she was a "pawn to the ongoing political developments" between Iran and the United States.