MOSCOW (RFE/RL) -- One day after a member of a powerful Chechen clan was shot to death in central Moscow, speculation was rife as to who killed Ruslan Yamadayev.
An unidentified gunman fired at the 46-year-old former Duma deputy and rival to Chechnya's leader, Ramzan Kadyrov, as the car he was traveling in stopped at a traffic light on September 24.
General Sergei Kizyun, who once served as Chechnya's top military administrator and was traveling with Yamadayev, was also badly wounded in the attack.
A spokesman for the Prosecutor-General's Office's Investigative Committee, Vladimir Markin, later said Yamadayev died on the spot and that Kizyun suffered wounds to the chest and forearm. He added that Yamadayev had been shot at least 10 times.
Some have pointed the finger at Kadyrov, Chechnya's
influential leader
, who had waged a bitter power struggle against the Yamadayev clan led by Ruslan's younger brother, Sulim.
Like Kadyrov, Ruslan and Sulim Yamadayev had fought alongside Chechen separatist rebels during the first Chechen war of 1995-96 before going over to the Russian government's side.
Sulim Yamadayev's battalion of former militants, Vostok, later joined the Russian military. He was sacked as the battalion's commander earlier this year after armed clashes broke out between out between Vostok troops and Kadyrov's militants.
Issa Yamadayev, Ruslan's other brother, speculated to Ekho Moskvy radio that Kadyrov might have ordered the murder in a bid to extend his grip on Chechnya but offered no evidence.
Ryzhkov urged Russian authorities to "react firmly, because it is unacceptable that a former State Duma deputy and one of Chechnya's most influential politicians is murdered in the capital in broad daylight, a stone's throw from the government building."
Previous Killings
Yamadayev, who had survived several previous assassination attempts, is not the first Kadyrov foe to be murdered in the Russian capital.
In November 2006, Movladi Baisarov, the commander of the Gorets -- a Chechen paramilitary unit controlled by the Federal Security Service (FSB) -- was shot dead as he stepped out of his car in central Moscow.
A month before, Russian journalist Anna Politkovskaya, a fierce critic of Kadyrov, had been gunned down in her Moscow apartment building.
In October 2007, unidentified gunmen shot Alikhan Mutsayev and Beslan Saydulayev, both members of Chechen law-enforcement agencies, in the Russian capital. Mutsayev was killed on the spot, and Saydulayev was hospitalized with serious gunshot wounds.
But some Chechnya watchers say Ruslan Yamadayev's assassination doesn't necessarily play to Kadyrov's advantage and could even be an attempt by rivals to discredit him.
Olga Alenova, a journalist for the Russian daily ""Kommersant" who knew Yamadayev closely, said the slaying puts Kadyrov's own life at risk.
"It's very difficult to affirm that Kadyrov's enemies were killed by completely different people for different motives, but for some reason all those whom Kadyrov disliked and feared are being murdered," Alenova said. "On the other hand, Kadyrov was very well-aware of the risk posed by Yamadayev's murder. The enmity between these two powerful families in Chechnya is very dangerous. Kadyrov can't sleep soundly now because if Sulim declares a blood vengeance against him, this is very serious."
RFE/RL's Russian Service contributed to this report
The Rise Of Ramzan Kadyrov
The Rise Of Ramzan Kadyrov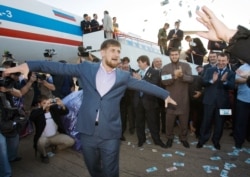 Kadyrov dances at the reopening of Grozny Airport
Ever since his father, pro-Kremlin Chechen President Akhmed-Hadji Kadyrov was killed in a May 2004 bomb blast in Grozny, Ramzan Kadyrov has risen to prominence.
In March 2006, First Deputy Prime Minister Kadyrov, who heads a personal army of 10,000 heavily armed fighters, was named prime minister. His reign as premier has been characterized by divisions in the Chechen leadership and accusations of torture. But he has also been credited with improving living standards in the republic.
In October, he turned 30, clearing the way for running for president.
CHRONOLOGY
The
fighting in Chechnya
has raged, with short breaks, since 1994. It has brought misery, death, and destruction to the North Caucasus republic and to Russia as a whole. View an
annotated timeline
of the conflict.