But the recent standoff between his forces and a rival pro-Kremlin clan underscores the volatile situation in Chechnya as it rebuilds from more than a decade of war against separatist rebels.
Kadyrov's fighters last week reportedly engaged in a deadly clash with servicemen from the Vostok battalion, commanded by Sulim Yamadayev, after their motorcades failed to give way near the Chechen town of Argun.
Kadyrov and Yamadayev, both former separatist rebels, have each pledged loyalty to Putin, who is due to step down after Dmitry Medvedev is sworn in as Russia's new president on May 7.
But Yamadayev's battalion formally reports to the Defense Ministry in Moscow, making it the only commando unit in the republic not under Kadyrov's control.
Aleksei Malashenko, a Caucasus expert at the Carnegie Center in Moscow, says the standoff is a sign that the power struggle between the two clans is far from abating.
"That's why Ramzan is reacting so strongly, that's why he is saying that all Vostok battalion servicemen are criminals -- he wants to get rid of them quickly," Malashenko says. "But he isn't succeeding, and he won't succeed. The Vostok battalion consists of armed people, militarily extremely efficient; they are professionals. They won't be disbanded and farmed out to Kadyrov -- they will always be Russia's reserve."
During last week's clash, the two sides exchanged gunfire before Vostok eventually gave way to Kadyrov's motorcade. There were conflicting reports regarding the death toll -- a Chechen official said there were no casualties, while the Reuters news agency reported at least 18 people, including servicemen and civilians, were killed in the shoot-out.
Kadyrov quickly ordered police and his soldiers to surround and search Vostok's headquarters in Gudermes, Chechnya's second-largest city and the base of the Yamadayev clan led by Sulim and his brothers.
Since then, both sides have been trading accusations of murder and abuse of power.
Chechnya's parliament called on the Defense Ministry to oust Yamadayev from the Vostok battalion, and Kadyrov accused Yamadayev and his brother Badrudi of murders and abductions.
Yamadayev, in turn, said Kadyrov's forces practiced kidnappings and stood ready for another war with Russia. "They are just waiting," he told the Ekho Moskvy radio station.

Out Of Moscow's Control?
Kadyrov and his men have a history of violent encounters with their rivals, but these clashes rarely make it to the media.
Analysts say the latest standoff publicly embarrasses the Kremlin at a time when Putin, who has touted Chechnya's stability as one of his proudest achievements, prepares to step down.
Due to his close ties with Putin, any setback to Kadyrov's authority could reflect badly on the Kremlin and destabilize the region.
Some observers, however, have speculated that the Kremlin may have an interest in letting the dispute escalate.
"I don't understand the logic of the current authorities," says Ruslan Martagov, a former spokesman for the mid-1990s, Moscow-installed Chechen government of Doku Zavgayev.
"One is under the orders of the presidential administration, the other is under the orders of the Defense Ministry. What prevents them from summoning both these people and telling them, 'You take your troops here, and you take your troops there'? This would take about 20 minutes," Martagov says. "Either they don't want to do that, or they have absolutely no control over the situation there."
Moscow's influence in the region has declined sharply in past years after it gradually ceded power to Kadyrov's forces, most of whom are former rebel fighters amnestied by the Kremlin.
The 31-year-old president has sought to consolidate his power in the province by establishing a cult of personality around himself and his father, Akhmed-hadji Kadyrov, the former pro-Moscow Chechen president killed in a bomb attack in May 2004.
The Chechen government, for instance, published a book of speeches and quotations by Ramzan Kadyrov to mark his first year as president. Kadyrov is credited with a reconstruction boom that began under his tenure as prime minister two years ago.
But critics continue to accuse Kadyrov and his fighters of severe human rights abuses and of amassing a vast fortune through illegal oil exports, extortion, and racketeering.
Many have condemned Moscow for putting too much faith in the rough-mannered, former rebel. Chechnya-watchers say Kadyrov is now powerful enough to plunge the region into new chaos if he ends up turning against his Kremlin masters -- or being slain like his father.
"Placing one's bet on one single person is dangerous, very dangerous," the Carnegie Center's Malashenko says. "He has many enemies -- both in Russia and in Chechnya itself -- he is an adventurous young man, he often travels without bodyguards. He's a fatalistic kind of person. I think he has a 50 percent chance of reaching his 40th birthday."
RFE/RL's Russian Service contributed to this report
The Rise Of Ramzan Kadyrov
The Rise Of Ramzan Kadyrov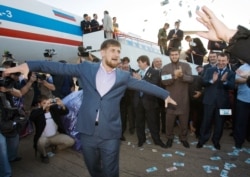 Kadyrov dances at the reopening of Grozny Airport
Ever since his father, pro-Kremlin Chechen President Akhmed-Hadji Kadyrov was killed in a May 2004 bomb blast in Grozny, Ramzan Kadyrov has risen to prominence.
In March 2006, First Deputy Prime Minister Kadyrov, who heads a personal army of 10,000 heavily armed fighters, was named prime minister. His reign as premier has been characterized by divisions in the Chechen leadership and accusations of torture. But he has also been credited with improving living standards in the republic.
In October, he turned 30, clearing the way for running for president.
CHRONOLOGY
The
fighting in Chechnya
has raged, with short breaks, since 1994. It has brought misery, death, and destruction to the North Caucasus republic and to Russia as a whole. View an
annotated timeline
of the conflict.