Predictions that Kadyrov would become the pro-Moscow leader of Chechnya first surfaced following the death in a terrorist bombing on May 9, 2004, of his father, Akhmed-hadji Kadyrov.
Within hours of Akhmed-hadji's death, Russian television broadcast footage of Russian President Vladimir Putin meeting with a tracksuited Ramzan at the Kremlin to express condolences.
It was presumably at Putin's behest that Ramzan Kadyrov -- at that point only 28 years old and thus too young to succeed his father as republic head -- was named first deputy prime minister in May 2004, awarded the prestigious Hero of Russia award in December of that year, and promoted to Chechen prime minister in March 2006.
Then, in February 2007, four months after Kadyrov turned 30 and following a protracted war of attrition with his nominal superior, Alu Alkhanov (a former Chechen Interior Minister elected as Akhmed-hadji Kadyrov's successor in September 2004), Alkhanov submitted his resignation, paving the way for Putin to propose Ramzan Kadyrov as republic head.
The Chechen parliament elected in November 2006, whose members are subservient to Kadyrov, voted unanimously on March 2 in favor of his nomination, and he was inaugurated in his hometown of Gudermes on April 5 in a ceremony likened by "The Economist" on May 31 to "a high-end bar mitzvah, only with more weapons."
Power Politics
If one assumes, however, as did Mao Tse-Tung, that "political power grows out of the barrel of a gun," Ramzan Kadyrov has been one of the most powerful, and most feared, political figures in Chechnya for years, thanks to the various police and security forces he supervised, and which human-rights watchdogs both in Russia and abroad have implicated in countless cases of the abduction, torture, and summary execution of Chechen civilians suspected of sympathizing with the armed resistance.
Kadyrov even stands accused of having personally supervised, or even participated in, such violence. In clandestinely shot video footage circulated last year, a man with an uncanny resemblance to Kadyrov is seen pawing a girl while his subordinates torture a suspect. The young man's screams are clearly audible above music and laughter.
Since his inauguration in early April, Kadyrov has moved swiftly to strengthen even further his personal position; to reformulate Chechnya's outstanding requests for additional financial support from Russia; to reduce the Russian Interior Ministry presence in Chechnya; and to send an unambiguous message to the Chechen population that their well-being, if not their lives, depends on not incurring his displeasure or that of his minions.
Just days after his inauguration, Kadyrov named as prime minister his former first deputy, Odes Baisultanov, his cousin on his mother's side. Other trusted associates were likewise named to top posts, including Muslim Khuchiyev as mayor of Grozny.
Then, in mid-June, the Chechen parliament gave preliminary approval to several proposed amendments to the 2003 Chechen Constitution, including one that would extend the term of the republic's leader from five to seven years. Those amendments are likely to be put to a republic-wide referendum in December.
Eliminating The Competition
At the same time, Kadyrov has set about neutralizing any potential challenge to his personal control over security issues and the judicial system. He has launched a campaign to demand the closure of the so-called Operational Search Office (ORB-2) on the grounds that its staff engage in the torture of civilian detainees.
International human-rights watchdogs have for years leveled similar accusations to no avail, which suggests that Kadyrov is motivated not so much by a sudden desire to protect the Chechen civilian population from such reprisals as by the compulsion to sideline the Russian Interior Ministry to which the ORB-2 is directly subordinate, according to a commentary published in the "Caucasus Times" on May 18.
"Nezavisimaya gazeta" similarly described ORB-2 as part of a systems of checks and balances intended to restrain Kadyrov, and which he now seeks to dismantle. Kadyrov himself, in an interview published in June in "Kommersant-Vlast," denied that he seeks to bring ORB-2 under his personal control.
Kadyrov has also set in motion a campaign, ostensibly launched by the Public Chamber, to demand the dismissal of Chechen prosecutor Valery Kuznetsov, who has been described by a staffer of the human-rights center Memorial as the first person to occupy that post with whom some degree of cooperation was possible, according to kavkaz-uzel.ru.
Kadyrov has reportedly taken personal charge of the republic's Antiterror Commission. But one of Ingushetia's deputy interior ministers was quoted by ingushetiya.ru in May as saying, on condition of anonymity, that a report that Kadyrov was seeking to shoehorn his own chosen candidates into two top posts in the Ingushetian Interior Ministry in a bid to extend his clout beyond the borders of Chechnya was not true.
Filling The Republic's Coffers

On the economic front, Kadyrov has apparently approved a new approach in the ongoing campaign to raise funds for reconstruction in Chechnya. Even before his inauguration, Kadyrov announced that the draft power-sharing treaty between Chechnya and the federal center, which was the subject of protracted negotiations under Kadyrov senior and Alkhanov, is an anachronism, and he is against signing such an accord.
Instead, Chechen officials have drafted, and submitted in early June to the Russian State Duma, a bill that would exempt businesses in Chechnya from paying any federal taxes at all for a period of seven years, and reduce to 50 percent the tax rate for a further seven years. Individual taxpayers would reportedly not, however, benefit from that arrangement.
In addition, the Russian Regional Development Ministry has drafted and submitted to the Russian government a three-year reconstruction program for Chechnya that will cost an estimated 80 billion rubles ($3.1 billion), of which some 64.6 billion rubles will be provided from the federal budget.
At the same time, Kadyrov has actively solicited investment in the Chechen economy, courting potential investors from other regions of Russia, from abroad (during the June Economic Forum in St. Petersburg), and, most recently, from a delegation of Moscow-based diplomats from states that are members of the Arab League.
Meanwhile, the Chechen parliament has presented the Russian government with a demand of 18.1 billion rubles to be paid immediately in compensation for victims of "political repression" in Chechnya (presumably meaning survivors of the 1944 deportation, which would mean anyone born before the 1957 decree exonerating the Chechens of collaboration with Nazi Germany and giving the green light for their return to Chechnya).
That onetime payment would reportedly be followed by similar annual payments of 10 billion rubles for an unspecified time period. That demand raised eyebrows in the Russian State Duma, inclining some deputies to construe it as a veiled demand for compensation for the material damage inflicted during the 1994-96 and current wars. As most government records were destroyed during the fighting, there is no way of proving precisely who is eligible for compensation.
Law and Order
As part of his ongoing efforts to secure the support of the Chechen population, Kadyrov has issued orders to step up the pace of reconstruction, and to create more jobs to reduce the unemployment rate (currently at 75 percent). But many hastily restored or rebuilt buildings are of dubious quality, and the human-rights center Memorial reported in late June that 24 construction workers in Grozny have been fired for demanding payment for their work.
One of Kadyrov's first undertakings following his inauguration was to summon law-enforcement personnel and order them to take a tougher measures to stamp out bribery, corruption, and embezzlement of budget funds.
He has created a special government commission, chaired by Apti Alaudinov, head of the republican department for combating organized crime, to tackle corruption within the bureaucracy, and in June he demonstratively fired a Grozny city official who had held his post for just two months.
Yet despite a handful of such high-profile dismissals, most Chechens continue to single out corruption -- especially the routine extortion of bribes by officials processing demands for compensation for property destroyed during the fighting of the past 12 years -- as one of the most serious problems the republic faces, according to kavkaz-uzel.ru.
Finally, Kadyrov's repeated claims to have decimated the Chechen resistance and restored political stability are open to question. In recent months, resistance websites have reported a massive exodus of young men to fight in the resistance ranks, reports that Kadyrov felt compelled to refute in a public statement on June 20.
More recently, the resistance website kavkazcenter.com claimed that the resistance has expanded its control to encompass the greater part of the mountainous south of Chechnya.
The Rise Of Ramzan Kadyrov
The Rise Of Ramzan Kadyrov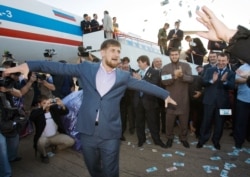 Kadyrov dances at the reopening of Grozny Airport
Ever since his father, pro-Kremlin Chechen President Akhmed-Hadji Kadyrov was killed in a May 2004 bomb blast in Grozny, Ramzan Kadyrov has risen to prominence.
In March 2006, First Deputy Prime Minister Kadyrov, who heads a personal army of 10,000 heavily armed fighters, was named prime minister. His reign as premier has been characterized by divisions in the Chechen leadership and accusations of torture. But he has also been credited with improving living standards in the republic.
In October, he turned 30, clearing the way for running for president.
CHRONOLOGY
The
fighting in Chechnya
has raged, with short breaks, since 1994. It has brought misery, death, and destruction to the North Caucasus republic and to Russia as a whole. View an
annotated timeline
of the conflict.