The rights official spent several days in the North Caucasus visiting pretrial detention centers and speaking to relatives of people who have disappeared after being arrested or abducted.
His news conference today to discuss his trip came a day after he said in Chechnya that he was "convinced" that torture "still goes on" at the hands of Chechen law enforcement, and that the practice is probably "widespread."
He also criticized the failure by Chechen officials to determine the fate of the thousands of people who have disappeared over the course of Russia's second war in the separatist republic.
Kadyrov's security forces are believed to be behind continued torture and killings in Chechnya.
Hammarberg reiterated that message during his remarks in Moscow today. "Regardless of what the real number of missing and unidentified [bodies] is, I'm convinced this is truly a serious, urgent problem," Hammarberg said.
Hammarberg's stopover in the Russian capital comes as the Chechen parliament today approved the presidential nomination of Ramzan Kadyrov, the man whom many hold responsible for the republic's rights abuses. The Kremlin credits new President Kadyrov with bringing a measure of stability to the war-ravaged republic during his stint as prime minister.
During today's news conference, Hammarberg declined to comment on Kadyrov being voted in as president and made no connection to him being responsible for abuses, according to AP.
However, the agency quoted Hammarberg as saying that while interviewing detainees in Chechnya who had complained of being tortured, "several of them pointed to the activities of the federal police."
He proposed that a "truth commission" be set up in the republic to determine responsibility for such abuses.
Remembering Anna Politkovskaya
Remembering Anna Politkovskaya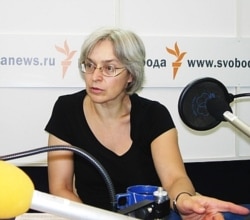 Anna Politkovskaya at RFE/RL in July 2006 (RFE/RL)
A BRAVE VOICE SILENCED. Prominent Russian journalist Anna Politkovskaya was killed on October 7 in her Moscow apartment building. An outspoken critic of the Kremlin, she was best-known for her reporting on the conflict in Chechnya. Former Soviet President Gorbachev called her slaying "a true political homicide, a vendetta."
Chechens Mourn Politkovskaya As 'Last Hope'
Politkovskaya Investigating Chechen Torture At Time Of Death
Two Journalists Die In Contract Killings A Year
SUBSCRIBE
For regular news and analysis on media issues throughout RFE/RL's broadcast area by e-mail,
subscribe to "RFE/RL Media Matters."