But major Russian and foreign rights groups have boycotted the event, which they say aims at giving legitimacy to Chechen acting President Ramzan Kadyrov.
Rights campaigners have long accused Kadyrov, a former separatist rebel, of mass human rights abuses.
Thomas Hammarberg, the European Commissioner for human rights, is the only prominent international figure attending the event.
Chechen Ombudsman Nurdi Nukhazhiyev said human rights violations continue in Chechnya despite what he described as recent progress. "The situation in the Chechen Republic today enables us to hold a human rights conference, which confirms that there have been radical positive changes," Nukhazhiyev said. "This does not mean, however, that we don't face problems in the human rights area."
Participants adopted a resolution calling for the creation of a commission to help find the thousands of civilians gone missing in Chechnya since the start of the second conflict between separatist rebels and Russian troops in 1999.
(with material from Reuters, Interfax, ITAR-TASS)

The Rise Of Ramzan Kadyrov
The Rise Of Ramzan Kadyrov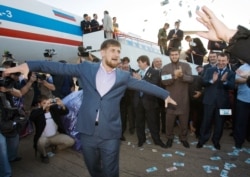 Kadyrov dances at the reopening of Grozny Airport
Ever since his father, pro-Kremlin Chechen President Akhmed-Hadji Kadyrov was killed in a May 2004 bomb blast in Grozny, Ramzan Kadyrov has risen to prominence.
In March 2006, First Deputy Prime Minister Kadyrov, who heads a personal army of 10,000 heavily armed fighters, was named prime minister. His reign as premier has been characterized by divisions in the Chechen leadership and accusations of torture. But he has also been credited with improving living standards in the republic.
In October, he turned 30, clearing the way for running for president.
CHRONOLOGY
The
fighting in Chechnya
has raged, with short breaks, since 1994. It has brought misery, death, and destruction to the North Caucasus republic and to Russia as a whole. View an
annotated timeline
of the conflict.