In 2006, Russian citizens filed some 12,000 complaints -- a fifth of all case sent to the court that year. In turn, the court was able to hand down final judgments in just 102 cases.
Lost Family
One of those was brought by Marzet Imakayeva, a Chechen woman whose husband and 25-year-old son both disappeared without a trace after being detained by Russian forces.
Imakayeva said witnesses saw Russian forces pick up her son in 2000 as he returned from a shopping trip to a neighboring village. Her husband, she says, was detained two years later.
"One morning, there was a terrible noise in our courtyard. Russian troops, some with masks and others without, filled the whole courtyard," Imakayeva told RFE/RL's North Caucasus Service. "They were searching for something, and they dug up everything. They put my husband into a car and took him away.
"Since then, both my husband and son have been missing. Everywhere I wrote, they told me they hadn't detained him. They sent middlemen to ask me to withdraw my complaint with the court. The middlemen said it was dangerous and something could happen to me, too."
No Justice At Home
The threat did not deter Imakayeva from pursuing her case in Strasbourg.
She is among the growing number of Chechen civilians who are looking to the European Court of Human Rights to hold Russia to account for atrocities committed by federal troops in the North Caucasus.
Many victims say the Strasbourg court is the only legitimate alternative to Russia's own corrupt and deeply flawed justice system.
There is little sign that Russia is fulfilling the court's more important demands -- to bring the perpetrators to justice and prevent similar atrocities from happening again.
Olga Vishnyovskaya, a Russian lawyer at the court, says most plaintiffs are suing security forces for abducting and killing their loved ones.
"Unfortunately, a tendency can be observed -- there is a rather high number of cases connected with disappearances," Vishnyovskaya said. "They come from Chechnya and neighboring republics, Ingushetia for instance; such cases have also been filed from Daghestan. Relatives complain that their family members were detained by security subdivisions that failed to identify themselves. These people then disappear without a trace."
Russian human rights organizations estimate that between 3,000 and 5,000 people have disappeared and are feared dead in Chechnya since Russian troops in 1999 launched a second campaign to crush Chechnya's self-declared independence.
Held To Account
Suddenly, Russia is being forced to acknowledge the extent of the atrocities. The year 2006 saw the first Strasbourg court rulings holding Russia responsible for civilian deaths in Chechnya.
The court ordered Russia to pay 90,000 euros ($116,500) in damages to Imakayeva for the loss of her son and husband.
In another case, the court ordered Moscow to pay nearly 70,000 euros ($89,500) in damages to relatives of Nura Luluyeva, a nurse whose body was found in a mass grave in 2001. She had been detained during a raid on a Grozny market a year earlier. A forensic report established that she had died of injuries resulting from severe beating.
In October 2006, the court found Russia responsible for the shooting deaths of six Chechens, including a pregnant woman and a 3-year-old child in February 2000.
And in the latest judgment, the Strasbourg court on January 18 ruled that the Russian military tortured two Chechen brothers in 2000. Adam and Arbi Chitayev say they were beaten with water bottles and truncheons, and nearly strangled. Each brother was awarded 38,815 euros ($50,250) in compensation.
Compensation, But No Reform
Since Russia is a member of the Council of Europe, the court's decisions are binding, and Vishnyovskaya says Moscow has so far never failed to pay.
But there is little sign that Russia is fulfilling the court's more important demands -- to bring the perpetrators to justice and prevent similar atrocities from happening again.
Svetlana Gannushkina, a prominent Russian rights campaigner, says Strasbourg must do more to ensure Russia works toward correcting rights violations.
"It's a rich government with big oil reserves. It pays these sums and leaves it at that," Gannushkina said. "This is why it is crucial that the European Court demands that the terms of judgment are fulfilled not only with regard to material compensation, but also to all other parts of the judgment. Unfortunately, we can't say this is being done very efficiently."
An example of this is the case of Fatima Bazorkina, a Chechen woman who sued the Russian government after she saw television footage of a Russian officer ordering the execution of her son.
Strasbourg ruled in Bazorkina's favor, and awarded her 35,000 euros ($45,300) in damages and 12,241 euros ($15,850) for costs and expenses.
Even so, General Aleksandr Baranov, the man captured on camera giving the order to kill her son, has since been awarded a Hero of Russia medal and is now in charge of all Russian troops in the North Caucasus.
Hostility, Resentment
Part of the problem lies in the hostility with which Russian political circles view the Strasbourg court, whose judgments are sometimes seen as part of a broad anti-Russian campaign.
Russia is the only Council of Europe member not to have ratified a document intended to help the European Court of Human Rights speed up the processing of cases. The Russian parliament has rejected the document, preventing it from coming into effect.
President Vladimir Putin, the man behind the second Chechen war, himself recently accused the court handing down "political" rulings.
At least one nongovernmental organization providing legal assistance to victims of human rights abuse in the North Caucasus is coming under pressure from the Russian government.
The Dutch-based Stichting Russian Justice Initiative, which is currently representing clients in more than 100 cases before the European Court of Human Rights, was informed by Moscow in November it lacked the documentation needed to be legally registered in Russia.
No Slowdown
Still, cases continue to be filed to Strasbourg from the North Caucasus. Some 200 Chechen cases are currently pending at the court.
Even though the process of suing Russia has been strenuous and at times even dangerous, Marzet Imakayeva nonetheless advises all mothers whose children have disappeared to seek justice. "I would advise all mothers to file complaints. If all of them complain, then maybe the Russians will realize that they are gaining a reputation throughout the whole world," she said.
"Maybe our children are being kept somewhere. I am convinced that these mothers would gather the necessary documents for the court. But they lack money and physical strength. One needs to travel constantly, knock on a lot a doors. Otherwise, all the mothers would travel everywhere. This is how cases remain unsolved."

Remembering Anna Politkovskaya
Remembering Anna Politkovskaya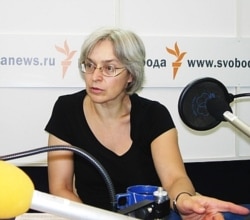 Anna Politkovskaya at RFE/RL in July 2006 (RFE/RL)
A BRAVE VOICE SILENCED. Prominent Russian journalist Anna Politkovskaya was killed on October 7 in her Moscow apartment building. An outspoken critic of the Kremlin, she was best-known for her reporting on the conflict in Chechnya. Former Soviet President Gorbachev called her slaying "a true political homicide, a vendetta."
Chechens Mourn Politkovskaya As 'Last Hope'
Politkovskaya Investigating Chechen Torture At Time Of Death
Two Journalists Die In Contract Killings A Year
SUBSCRIBE
For regular news and analysis on media issues throughout RFE/RL's broadcast area by e-mail,
subscribe to "RFE/RL Media Matters."