The Strasbourg-based court also awarded Adam and Arbi Chitayev each 35,000 euros ($45,280) in compensation.
The two brothers say they were beaten with full water bottles and rubber truncheons, almost strangled with adhesive tape and gas masks, had dogs set on them, and their skin torn with pliers during about six months of detention.
They also say they survived only because of an article written by slain journalist Anna Politkovskaya and the help of the Memorial human rights group.
Human rights groups have long accused Russian forces of abuses in Chechnya, accusations that Russia denies. Today's ruling is said to be the first torture conviction against Russian forces.
(Reuters)
The Chechnya Conflict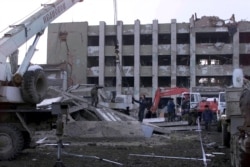 The aftermath of a December 2002 Chechen resistance attack on the main government building in Grozny (epa)


CHRONOLOGY
The
fighting in Chechnya
has raged, with short breaks, since 1994. It has brought misery, death, and destruction to the North Caucasus republic and to Russia as a whole. View an
annotated timeline
of the conflict.

ARCHIVE
RFE/RL's complete coverage of Russia's war-torn Republic of Chechnya.