Strasbourg Rules Against Russia Over Chechen Deaths
Russian troops strip-search a Chechen (fiile photo) (ITAR-TASS) October 12, 2006 -- The European Court of Human Rights today ruled that the Russian state was responsible for the unlawful killings of five Chechens during a security operation by Russian military forces in the province's capital Grozny six years ago.
The court also said Russia failed to properly investigate the execution-style killings in Grozny, and ordered Moscow to pay the victims' relatives more than a total of $285,000 in damages.
(AP)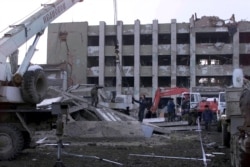 The aftermath of a December 2002 Chechen resistance attack on the main government building in Grozny (epa)


CHRONOLOGY
The
fighting in Chechnya
has raged, with short breaks, since 1994. It has brought misery, death, and destruction to the North Caucasus republic and to Russia as a whole. View an
annotated timeline
of the conflict.

ARCHIVE
RFE/RL's complete coverage of Russia's war-torn Republic of Chechnya.