But today, they are united by two things. All hold influential posts in the new Chechen government, and all are deeply loyal to Ramzan Kadyrov, the recently appointed president of Chechnya.
On March 1, Russian President Vladimir Putin nominated Kadyrov, a 30-year-old former separatist fighter and son of assassinated Chechen President Akhmed-hadji Kadyrov, to serve as president of the North Caucasus republic. His nomination was confirmed by the Chechen parliament the next day.
A Rapid Rise
Kadyrov had previously served as Chechnya's prime minister, rising to acting president following the resignation of his predecessor, Alu Alkhanov.
His ascent to the top of the Chechen leadership had long been anticipated -- often with concern. Kadyrov commands a large personal army, the notorious Kadyrovtsy, which has been tied to rampant torture, kidnappings, and summary executions in the war-torn republic.
Although he won't be inaugurated until April 5, Kadyrov has lost no time in nominating members of his inner circle to key cabinet posts.
So what are Moscow's interests in allowing the iron-fisted Kadyrov to consolidate his own power?
"The reasons are clear," Ruslan Martagov, a Chechen political analyst who was a spokesman for the Moscow-installed government of Doku Zavgayev in the mid-1990s, told RFE/RL. "With [Chechnya] in the hands of one single man, they'll be able to do anything with it in the future, should the need arise. Had the people been given the right to choose their leader, it would be united like one family. But when they place one man at the head of the republic without asking the people's opinion, this republic is easier to destroy and frighten. This is precisely why this situation has been created and is being sustained."
Friends And Family
Under the reshuffle, Chechnya's new prime minister is Odes Baisultanov, a former first deputy prime minister responsible for the reconstruction of war-ravaged Chechnya. The 41-year-old Baisultanov is also Kadyrov's cousin on his mother's side.
Kadyrov then appointed Muslim Khuchiyev mayor of the Chechen capital, Grozny. Khuchiyev is the vice president of the Akhmed-haji Kadyrov charity foundation and heads the Chechen branch of A Just Russia, a pro-Putin political party.
Former Chechen Deputy Prime Minister Khalid Vaikhanov now serves as secretary of the Chechen Security Council. He is also a close ally of Kadyrov's.
Alambek Yasayev, Kadyrov's close friend, has been named deputy interior minister. Yasayev previously worked for a department combating organized crime and once commanded one of Kadyrov's security units.
Sergei Grigorianz, a Caucasus expert based in Moscow, told RFE/RL that permitting Kadyrov to put together this loyal new team, however, is not without danger for the Kremlin.
"[Moscow] is absolutely not certain that Kadyrov, who is still a very young man, will not one day use his power to sever all ties with Moscow," Grigorianz said.
Constitutional Changes
Just over two weeks into his presidency, Kadyrov has also announced several important plans.
Interfax reported that Kadyrov called for amendments to the Chechen constitution that would consolidate the republic's place within Russia.
The current constitution, adopted in 2003, affirms Chechnya's status as a subject of the Russian Federation. But he says he would like to see the language strengthened further.
Kadyrov this week also announced that Chechen inmates serving terms in Russian prisons will be moved to Chechnya by early 2008 for the remainder of their sentences.
Federal prison authorities reportedly gave the green light.
The decision would affect some 900 prisoners. Only Chechens serving life sentences in Russian facilities will not be repatriated.
The idea, however, is not new. Kadyrov has long voiced concern about what he says is ill-treatment of Chechens inmates in Russia.
A number of human rights campaigners have welcomed the initiative, which they say will enable the inmates to be closer to their families and avoid racial discrimination from prison staff and inmates.
But as Thomas Hammerberg, the Council of Europe Commissioner for Human Rights, cautioned during a visit to Chechnya this month, conditions in Chechen prisons are far from rosy. Inmates, he said, continue to face rampant torture in Chechen jails.
The Rise Of Ramzan Kadyrov
The Rise Of Ramzan Kadyrov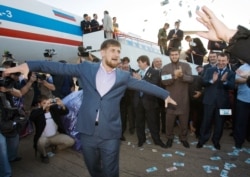 Kadyrov dances at the reopening of Grozny Airport
Ever since his father, pro-Kremlin Chechen President Akhmed-Hadji Kadyrov was killed in a May 2004 bomb blast in Grozny, Ramzan Kadyrov has risen to prominence.
In March 2006, First Deputy Prime Minister Kadyrov, who heads a personal army of 10,000 heavily armed fighters, was named prime minister. His reign as premier has been characterized by divisions in the Chechen leadership and accusations of torture. But he has also been credited with improving living standards in the republic.
In October, he turned 30, clearing the way for running for president.
CHRONOLOGY
The
fighting in Chechnya
has raged, with short breaks, since 1994. It has brought misery, death, and destruction to the North Caucasus republic and to Russia as a whole. View an
annotated timeline
of the conflict.