Chechnya's constitution, in force since March 2003, calls for the popular election of the republic's president.
But since late 2004, Russian law stipulates that regional leaders be appointed by the Kremlin and ratified by regional legislatures.
Kadyrov said he would call a referendum on any amendments to the constitution.
Urges Former Official To Return
Kadyrov today also called on former Health Minister Umar Khambiyev, a former separatist official, to return to the republic.
At a meeting with legislators, Kadyrov said Khambiyev is "a good surgeon" and should use his talents to help Chechnya.
Khambiyev, who is seeking political asylum in Italy, served in the government of former Chechen President and rebel leader Aslan Maskhadov.
Kadyrov -- eager to show that Chechnya is stable under his rule -- has called on Chechen emigres to return home.
(Interfax)
The Chechnya Conflict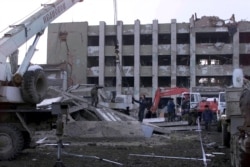 The aftermath of a December 2002 Chechen resistance attack on the main government building in Grozny (epa)


CHRONOLOGY
The
fighting in Chechnya
has raged, with short breaks, since 1994. It has brought misery, death, and destruction to the North Caucasus republic and to Russia as a whole. View an
annotated timeline
of the conflict.

ARCHIVE
RFE/RL's complete coverage of Russia's war-torn Republic of Chechnya.