"According to the results of a secret vote on the candidacy for president of the Chechen Republic proposed by the president of the Russian Federation, Ramzan Kadyrov has been vested, by this vote and these protocols, with the authority of president of the Chechen Republic," Dukvakha Abdurakhmanov, speaker of the legislature's lower chamber, said in announcing the vote.
The 58 members of the two-chamber parliament approved Kadyrov by a vote of 56 in favor, with two invalid ballots, according to Russian media.
Kadyrov, who was formerly prime minister of the Moscow-backed Chechen government, was nominated for the post on March 1 by Russian President Vladimir Putin.
Presidential envoy the Southern Federal District Dmitry Kozak thanked the Chechen lawmakers for supporting Putin's nominee. "This trust, the nearly unanimous approval of the candidacy of Ramzan Kadyrov proposed by the president of the Russian Federation, is worth a lot," he told the parliament in Grozny. "It is not only a great honor but also a great responsibility."
Kadyrov had been named acting president last month following the ouster of President Alu Alkhanov. Alkhanov resigned two weeks ago following a protracted power struggle with Kadyrov.
The son of assassinated Chechen President Akhmed-hadji Kadyrov, the younger Kadyrov has won praise for his efforts to rebuild Chechnya's infrastructure and has promised to boost security and to turn Chechnya into a prosperous region.
During his meeting with Putin on March 1, Ramzan Kadyrov said the most serious problem currently facing Chechnya is not security, but reconstruction and reducing unemployment.
Ahead of today's vote, he addressed the Chechen parliament. "First of all, I am grateful to members of the public who proposed me [for president], to the president [Putin] of the country, and to you [members of parliament]," he said. "If you give us your trust, we will serve Russia."
Rights campaigners have long accused Kadyrov's security forces, known as the "Kadyrovsty", of mass human rights abuses.
Most recently, Council of Europe Commissioner for Human Rights Thomas Hammarberg during a visit to Chechnya on March 1 criticized Chechen officials for failing to determine the fate of thousands of people who have disappeared over the course of Russia's second war in the separatist republic.
Hammarberg said torture "still goes on" at the hands of Chechen law enforcement, and that the practice is probably "widespread."
During a news conference in Moscow today, Hammarberg declined to comment on Kadyrov being voted in as president and made no connection to him being responsible for abuses, according to AP.
Critics have also accused Kadyrov -- who is fond of fast cars and luxurious living -- of creating a cult of personality around himself.
The Rise Of Ramzan Kadyrov
The Rise Of Ramzan Kadyrov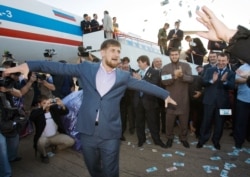 Kadyrov dances at the reopening of Grozny Airport
Ever since his father, pro-Kremlin Chechen President Akhmed-Hadji Kadyrov was killed in a May 2004 bomb blast in Grozny, Ramzan Kadyrov has risen to prominence.
In March 2006, First Deputy Prime Minister Kadyrov, who heads a personal army of 10,000 heavily armed fighters, was named prime minister. His reign as premier has been characterized by divisions in the Chechen leadership and accusations of torture. But he has also been credited with improving living standards in the republic.
In October, he turned 30, clearing the way for running for president.
CHRONOLOGY
The
fighting in Chechnya
has raged, with short breaks, since 1994. It has brought misery, death, and destruction to the North Caucasus republic and to Russia as a whole. View an
annotated timeline
of the conflict.