In an interview with RFE/RL's North Caucasus Service, Chechen Republic Ichkeria Foreign Minister Akhmed Zakayev said Kadyrov will be more independent that the outgoing pro-Moscow leader, Alu Alkhanov.
Zakayev said Kadyrov, a former rebel, will be more sympathetic to the separatists' agenda.
"On the whole, we consider it positive," Zakayev said. "Regardless of whether Putin made this reshuffle intentionally, or because he was forced to, it testifies to the incontestable prevalence of the sentiment in favor of Ichkerians, as we are often called, in the republic."
Russian President Vladimir Putin dismissed Alkhanov as Chechen president on February 15, and named him Russian deputy justice minister.
As prime minister, Kadyrov became acting president. Putin will now appoint a permanent replacement who must be approved by the republic's legislature.
In an interview with ITAR-TASS earlier in the day, Kadyrov pledged to implement new economic policies that will make Chechnya one of Russia's richest regions.
(with material from ITAR-TASS)
The Rise Of Ramzan Kadyrov
The Rise Of Ramzan Kadyrov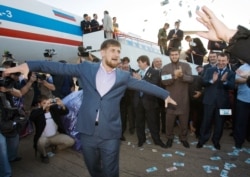 Kadyrov dances at the reopening of Grozny Airport
Ever since his father, pro-Kremlin Chechen President Akhmed-Hadji Kadyrov was killed in a May 2004 bomb blast in Grozny, Ramzan Kadyrov has risen to prominence.
In March 2006, First Deputy Prime Minister Kadyrov, who heads a personal army of 10,000 heavily armed fighters, was named prime minister. His reign as premier has been characterized by divisions in the Chechen leadership and accusations of torture. But he has also been credited with improving living standards in the republic.
In October, he turned 30, clearing the way for running for president.
CHRONOLOGY
The
fighting in Chechnya
has raged, with short breaks, since 1994. It has brought misery, death, and destruction to the North Caucasus republic and to Russia as a whole. View an
annotated timeline
of the conflict.