On March 13, the antitorture committee of the Council of Europe issued a statement saying that detainees in Chechnya were being ill-treated and tortured by members of Russian law enforcement agencies.
REPORT: Pro-Moscow Chechen security forces
caught on video
abusing civilians.
It was the third time the Council of Europe has criticized Russia over the issue.
But Kadyrov told Interfax that human rights abuses in Chechnya were a thing of the past.
Kadyrov said Chechnya had made "significant progress respecting human rights in prisons" and that the government was striving to make residents of the republic "feel protected by the law."
Likewise, Chechen Deputy Prime Minister Ziyad Sabsabi said those who think torture continues in the republic "are living somewhere in the past."
(Interfax, AFP)
The Chechnya Conflict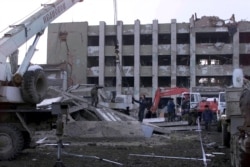 The aftermath of a December 2002 Chechen resistance attack on the main government building in Grozny (epa)


CHRONOLOGY
The
fighting in Chechnya
has raged, with short breaks, since 1994. It has brought misery, death, and destruction to the North Caucasus republic and to Russia as a whole. View an
annotated timeline
of the conflict.

ARCHIVE
RFE/RL's complete coverage of Russia's war-torn Republic of Chechnya.