ALMATY -- Kyrgyz residents of the Kazakh city of Almaty are planning to rally on June 24 in support of Kyrgyzstan's upcoming referendum on a new constitution, RFE/RL's Kyrgyz Service reports.
Kyrgyzstan's interim government has said that the referendum will be held on June 27 despite the emergency situation in two southern regions caused by clashes between ethnic Uzbeks and Kyrgyz that started on June 10.
There will be two questions on the referendum. One seeks approval for a new constitution that would give the prime minister's office greater powers, while the other asks voters if they approve of interim President Roza Otunbaeva remaining president until 2011.
Ulan Momunaliev, the chairman of Kyrgyzstan's Trade Representation, told RFE/RL that he expects some 200 members of the Kyrgyz community in Almaty to gather and call on their compatriots to take part in the referendum.
Momunaliev said Islamic prayers and rituals will also be performed at the gathering to commemorate the victims of the ethnic clashes in Kyrgyzstan's southern regions of Osh and Jalal-Abad.
He added that Almaty's Kyrgyz community has raised enough money to help 20 children from families affected by the ethnic clashes to spend several weeks at the Kyrgyz lake resort of Issyk-Kul.
Kyrgyz Crisis Coverage
Clashes In Kyrgyzstan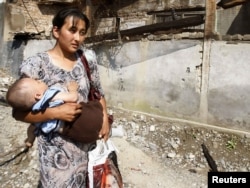 Full RFE/RL coverage of the ethnically charged violence that has shaken southern Kyrgyzstan since June 10. More