Anatoly Barkov, the vice president of Russian oil giant LUKoil, has been cleared of blame in a February car crash that killed two women.
Moscow police chief Vladimir Kolokoltsev said on September 7 that investigators found Olga Aleksandrina, the driver of the car that collided with Barkov's vehicle, guilty in the incident.
He told a news conference the investigation is closed.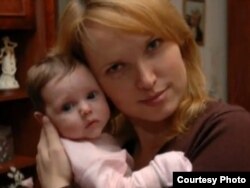 Olga Aleksandrina and her daughter, Nadezhda
Olga Aleksandrina, a 35-year-old doctor, was killed in the crash along with her 72-year-old mother-in-law, Vera Sidelnikova. Barkov was hospitalized with a leg injury.
At the time, eyewitnesses had said it was Barkov's Mercedes that was driving in the wrong lane, apparently trying to avoid a traffic jam.
Kolokoltsev defended the probe as objective, saying, "There has been no pressure on the investigators."
Kolokoltsev added that Russian President Dmitry Medvedev had personally followed the case. "It's hard to imagine that a criminal case that has been taken over by the president could be falsified," he said.
Aleksandrina's sister, Anastasia Aleksandrina, told RFE/RL she was not surprised by the verdict. "I thought it was humorous that Barkov was considered a victim in the court," she said.
She said she did not believe police claims that surveillance cameras did not capture the accident, which took place on Moscow's busy Leninsky Prospekt.
"We are dealing with a very large company that does not want to gain a reputation for careless driving, so I'm not surprised there was allegedly not a single camera," she said. "But I don't believe there wasn't a camera at the intersection between Leninsky Prospekt and Moscow's third circular highway that filmed this."
She said that according to an investigation carried out by her lawyers, it is evident that "Olga did not drive into the intersection and didn't veer [in any direction]. The steering wheel was not turned to one side."
A scene from a YouTube video about the crash by the Russian rapper Noize MC.
Anastasia Aleksandrina said she had not had any contact with Barkov. But she told RFE/RL that Olga's husband, Sergei Sidelnikov, had been in an argument with LUKoil representatives for years until his death. Sidelnikov died unexpectedly of a cerebral hemorrhage in early August.
Lawyer Lyudmila Aiver said she and other lawyers representing Olga Aleksandrina's relatives would carry out their own investigation.
"We will study the documents contained in the criminal case and we will invite independent experts to assess the situation," Aiver said. "We will carry out our own investigation to check the investigation's findings."
The case has
drawn wide public attention in Russia
, where many accuse police of covering up the truth to protect Barkov.
Russian rapper Noize MC
wrote a song about the tragedy
blaming Barkov and authorities, and a group of automobile enthusiasts has threatened to boycott LUKoil gas stations.
Barkov on September 7 offered to financially support Aleksandrina's daughter, Nadezhda, who is now 2 years old, until she turns 18.
Their relatives had no immediate comment on the proposal.

with contributions from RFE/RL's Russian Service