The United States formally ends its combat operations in Iraq today, more than seven years after the U.S.-led invasion that toppled Saddam Hussein's regime.
Iraqi Prime Minister Nuri al-Maliki said today that Iraq has gained its independence as a result. Maliki told Iraqis in a televised speech that Iraq is now "sovereign and independent" and that its security forces will deal with all threats in the country -- whether from domestic terrorism or threats from abroad.
He said Iraq is now "making its own decisions about its present and future," adding that "this day, August 31st, will always be an important day for all Iraqis."
His comments came as U.S. President Barack Obama is due to formally declare the end of U.S. combat operations in Iraq in a speech from the White House later today.
It was last year, shortly after taking office, that Obama declared the U.S. combat mission in Iraq would end on August 31, 2010. A reduction of U.S. troops has been under way for months, and U.S. forces already handed over responsibility for combat operations to Iraqi security forces on August 7.
That has left just under 50,000 U.S. troops in Iraq -- less than one-third of the peak figure of almost 170,000 U.S. soldiers during the "surge" operations of 2007 amid brutal Shi'ite-Sunni violence that cost tens of thousands of lives.
Overall, violence has fallen sharply since 2007. But levels of violence remain high, and there have been flare-ups since U.S. troop reductions began earlier this year.
War Is Not Over

Many Iraqis say they are afraid the reduction in U.S. troop numbers and their eventual full withdrawal next year could reignite sectarian bloodshed in Iraq.
Baghdad resident Nuri al-Marsumi says he is concerned that Iraqi forces are not yet capable of providing security against terrorists or a resurgence of sectarian violence.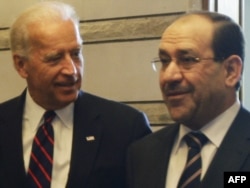 Iraqi Prime Minister Nuri al-Maliki (right) met with U.S. Vice President Joe Biden in Baghdad today.
"The war in Iraq is not over, and as a citizen I say that it is not over yet. There is still a war on terrorism," Marsumi says. "The U.S. withdrawal, which was conducted quickly and not in phases, has not given the Iraqi Army ample time to fill in the void. The Americans intend to embarrass the Iraqi Army."
Journalist Hassan al-Timmimi says his countrymen will continue to be concerned about the possibility of renewed sectarian violence as long as Iraq's elected politicians remain at an impasse over the formation of a new government.
"We hope that the war in Iraq is over and we hope that the Iraqi politicians reach an agreement to form a government as soon as possible," Timmimi says. "The formation of a new government for most people means an end to war. The future will be bright when the politicians come to an agreement and form a government."
Reassuring Words
U.S. Vice President Joe Biden arrived in Baghdad on August 30 in a bid to help Iraqi politicians overcome their differences. He also has been assuring Iraqi leaders that the United States is not abandoning them.
Biden was meeting today with Iraqi President Jalal Talabani and Prime Minister Maliki, as well as the former prime minister and recent election winner Iyad Allawi and other politicians.
The U.S. vice president also is also due to take part in a ceremony on September 1 to mark the start of Operation New Dawn, the U.S. military's new advise-and-assist mission in Iraq. For that mission, the United States plans to maintain just under 50,000 heavily armed troops in Iraq. They would train Iraqi soldiers, help with reconstruction work, and help Iraqi forces respond to any potential security challenges.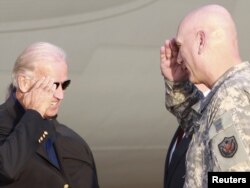 U.S. Vice President Joe Biden (left) salutes the U.S. military commander in Iraq, General Ray Odierno, as he arrives in Baghdad on August 30.
Izz al-Din Dawla, a member of parliament from Allawi's Al-Iraqiyah bloc, told RFE/RL's Radio Free Iraq that the U.S. withdrawal should motivate politicians in Baghdad to overcome their differences.
"I think that the U.S. withdrawal is sending a message to all the politicians in Iraq that they should feel more responsible," he said. "This is because the security file is closely related to the political file and because Iraq continues to bleed. That's why this [withdrawal] should motivate the political blocs and powers who are there, because the people voted for them [in order] that they should be more concerned about the people and should form the government as soon as possible."

'Struggle Will Continue'
But Wael Abdullatif, a member of the Iraqi National Alliance that groups together the country's two main Shi'ite groups, told RFE/RL he doesn't think the withdrawal will have much impact on Baghdad's political impasse.
"The main political leaders -- as they call themselves -- are fighting for a position here or there," he said. "I think they do not really care even about the withdrawal, or the explosions, or the services, or the security, or the frustration Iraqis are feeling, or any other thing. I think the withdrawal did not affect our brothers in the political process or the [main] leaders. This means the struggle will continue for the position of the prime minister and other leading posts."
Some U.S. soldiers in Iraq also share the concern about the possibility of deteriorating security in the aftermath of a U.S. withdrawal.
"I don't want to put it this simplistically, but we broke [Iraq]. We need to fix it," says U.S. Staff Sergeant Thom Trans. "I know [President Obama] ran on the platform of, 'We're going to pull our troops back.' And that's great. Everybody wants our troops to come home. But the reality of it is that if we're not there, very bad things are going to happen."
If needed, the U.S. military will continue to provide Iraqi forces with support such as close air cover with helicopter gunships, fighter jets, and remotely operated "drone" aircraft capable of firing missiles at ground targets.
written by Ron Synovitz, with contributions from RFE/RL's Radio Free Iraq