(RFE/RL) -- The murky world of Moldovan politics has become murkier still with acting President Vladimir Voronin's announcement that he will resign that post if his Communist Party officially goes into the opposition, as it is almost certain to do.
The 68-year-old Voronin made the announcement at a Communist Party gathering in Chisinau on September 2. A statement posted on the party's website said, "At this critical point in time for our nation and our party, I do not intend to continue in the rather doubtful and divided situation of being the acting president."
Analysts say the atmosphere of confrontation in Moldova is intensifying and the Communist strategy will likely force the country's third legislative election since April. Chisinau-based political analyst Gheorghe Cojocaru says the odds of the Communists reaching an agreement with the pro-European parties in parliament are slim.
"One cannot rule out the possibility that the Communists will boycott the election of the country's new president [in parliament], and thus trigger another early [legislative] election, hoping for political revenge," Cojocaru says. "To do that, they have to stay united and ready to fight."
Moldova has been gripped by political deadlock since inconclusive parliamentary elections in April and again in July failed to produce a legislative majority large enough to elect a successor to Voronin, who has been president since 2001 and who is ineligible for another consecutive term.
If Voronin's resignation becomes official, the role of acting president will fall to parliament speaker Mihail Ghimpu, head of the Liberal Party. Ghimpu is also a leader of the Alliance for European Integration (AIE), which unites the four Europe-oriented parties in parliament that together control 53 of the legislature's 101 seats. (The Communists control the remaining 48.)
Although all five parties represented in parliament have stressed the need to avoid a third round of elections in view of Moldova's dire economic situation, it seems increasingly unlikely that a compromise can be found.
The Communists walked out of the opening legislative session on August 24, exercising their right to take 10 days to form their parliamentary faction.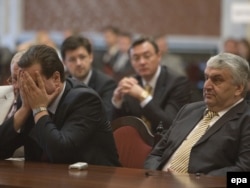 AIE leaders Marian Lupu (left) and Serafim Urechean -- no end in sight?
After the Communist walkout, AIE deputies elected Ghimpu speaker, a move the Communists have since challenged in an appeal to the Constitutional Court.
The court is expected to make an announcement on the appeal on September 8. However, even if the court rules that Ghimpu's election violated parliamentary rules, the AIE has enough votes to elect him again.
Stall Tactics
Communist deputies are expected to return to the chamber on September 4, although it is unclear whether AIE deputies will join them.
The Communists are in a position to continue hampering the work of parliament. The constitution requires that certain positions, including deputy speaker of parliament, be filled by the opposition. If the Communists refuse to nominate candidates for those posts, legislative functions would be hobbled.
The AIE will be able to install an acting prime minister and cabinet. However, 61 votes are needed to elect a new president. If parliament fails in two attempts to elect a president, then another round of elections will be triggered for early next year.
The AIE has said repeatedly it seeks to avoid repeat elections and is ready to negotiate some compromise with the Communists. Liberal Democratic Party head Marian Lupu told RFE/RL's Moldovan Service that the political stalemate is dangerous for the country.
"Immediately after the July 29 elections, we said that we must all sit down and negotiate. But nothing has happened," Lupu said.
"We'll continue pressing [for talks] because we have no time to lose. The economic, political, and social situation is deteriorating."
The Communists have refused to negotiate with the AIE, saying they intend to form their own center-left coalition. Since none of the AIE parties seems likely to join a Communist-led coalition, the party's strategy seems focused on forcing new elections.
However, all parties want to avoid being perceived as contributing to further stalemate, which would inevitably reduce their support in a new vote.
By standing aside, Voronin could be distancing himself from responsibility during the period of deadlock and gambling that the AIE will be blamed for the worsening economic situation.
He could also potentially be preparing the way for a possible return to the presidency, since it could be argued that a few months of an interim presidency would mean that a third Voronin term would be considered nonconsecutive.
by RFE/RL's Moldovan Service, with contribution from RFE/RL correspondent Robert Coalson