It has been almost exactly one year since Moldova's Communist president, Vladimir Voronin, stepped down, and the country's deadlocked legislature has been unable to muster the 61 votes needed to elect a successor, despite repeated attempts.
In November 2009, for instance, lawmaker Maria Postoico from the Communist Party -- which holds 48 seats in the 101-member parliament -- announced the party would once again boycott a presidential ballot involving the candidate of the Alliance for European Integration (AIE).
The ruling four-party AIE coalition tried to elect its candidate, Democratic Party leader Marian Lupu, again in December 2009 -- and failed again.
Although the coalition does not have the super-majority needed to elect a president, it had the simple majority required to schedule today's referendum. This will ask Moldovans if they agree that the president should be elected by a direct, popular vote -- as was the practice until 2000.
A poll released late last month by the IMAS agency indicated that more than 65 percent of the electorate intends to vote, and 90 percent of those plan to vote "yes."
A man on the streets of the capital, Chisinau, who declined to give his name, told RFE/RL's Moldova Service that the country must end the current stalemate.
"We have to go and vote on the referendum and vote 'yes' so that we can choose our president," he said.
Breaking Deadlock
The Communist Party, however, is continuing its obstructionist tactics, filing lawsuit after lawsuit against the initiative and urging voters to stay home. If less than one-third of the electorate turns out, the referendum will be invalidated.
The party controlled both the legislature and the presidency from 2000 until 2009 and remains the most popular party in the country, although its ratings have been in slow decline for the last few years.
All four coalition parties have campaigned strongly-- but separately -- in support of a "yes" vote.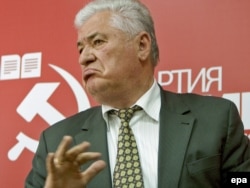 Vladimir Voronin, the Communist Party leader, is ineligible for a third term.
If the referendum results in a "yes" vote, new elections will be held -- most likely in November -- to replace the deadlocked parliament and to elect a head of state. That's where things could get interesting.
The Supreme Court rejected Communist Party leader Voronin's bid to be allowed to seek a third term, meaning that the country's most popular party has no viable candidate to promote.
At the same time, at least two leaders of the ruling coalition -- Lupu and Liberal Democratic Party head and Prime Minister Vlad Filat -- have hinted they will likely seek the presidency.
Moscow's Influence
Russia has always been keenly interested in Moldovan politics. Moscow strongly backed Voronin, and has been concerned about the pro-Western leanings of the new ruling coalition.
Relations with acting Moldovan President Mihai Ghimpu have been strained, in particular in June when Ghimpu issued a decree declaring June 28 to be "Soviet Occupation Day." Moldova's Supreme Court overturned that decree in July.
Moscow has better relations with Filat and, especially, with Lupu, who was a leader in the Communist Party until he broke with Voronin last year.
Analyst Vladimir Socor of the U.S.-based Jamestown Foundation wrote recently that Moscow was pushing Lupu to leave the coalition and form a leftist bloc with the Communist Party if new elections are held. Voronin was in Moscow last month for what Socor said were confidential talks.
"Moscow is still betting on Marian Lupu," says journalist Petru Bogatu of the "Jurnal de Chisinau" newspaper. "Vlad Filat tried to get the support of Moscow because the Liberal Democrat leader would like to secure his place with the centrist electorate."
Lupu's party has close ties with Russia's ruling United Russia party, which is headed by Russian Prime Minister Vladimir Putin.
However, throwing in his lot with the Communists could be risky for Lupu, as voters could see such a flip-flop as either self-serving or dictated by Moscow -- or both.
With the Communists unable to field a strong candidate of their own, Lupu might prefer to try to win over their electorate to his Democratic Party, gambling that he could win a second-round runoff against Filat or another candidate.
RFE/RL correspondent Robert Coalson contributed to this report