MOSCOW -- Ilya Yashin believes he had a solid platform to run in the upcoming elections to the Moscow city legislature. The 26-year-old opposition leader from the Solidarity movement campaigned to tackle problems he says are almost too big to believe.
"Ten percent of the richest people are 42 times richer than the poorest people. It's a colossal social divide that could lead to a social uproar," Yashin says.
"Moscow is packed with corruption, bribery, and problems the city authorities aren't tackling."
But neither Yashin nor any other Solidarity candidate who tried to run for the Moscow City Duma will take part in the October 11 vote after the city's election commission struck them from the ballot, citing irregularities in their application papers.
Yashin says all the signatures he was required to collect in support of his application were ruled fake. Another candidate was told that he had forged even his own signature.
High-Stakes Election
At stake are 35 seats in no ordinary local legislature: the Moscow Duma boasts politicians who control the huge sums of money that come through the Russian capital. As such, the upcoming elections are seen as a national event, even though the legislature is essentially seen as a rubber stamp for one man: Mayor Yury Luzhkov.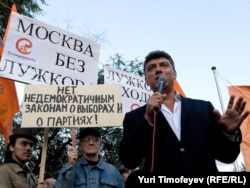 Boris Nemtsov at a demonstration in Moscow -- "Moscow without Luzhkov"
Luzhkov has held the mayoral spot since 1992. Grand public works and high pensions -- as well as strictly controlled media and highly managed elections -- have helped maintain Luzhkov's popularity in Moscow.
Recent polls, however, have started to see his ratings drop. And a recent series of political attacks and allegations have chipped away at his standing even further.
Some analysts are beginning to speculate that the Luzhkov era may be nearing an end, and that the Kremlin may be keeping him in the post only long enough to ensure United Russia wins a majority of the seats in the vote.
That should be easy enough to do. The elimination of opposition candidates like Yashin has already helped stack the deck in United Russia's favor. Vladimir Pribylovsky of the Panorama think tank says opposition parties may win a few seats, but only because the Kremlin has asked Luzhkov for a semblance of democracy.
"The elections are not elections. They will deliver the results dictated by Luzhkov," Pribylovsky says. "It's uncertain what he's decided about the [liberal] Yabloko party. But he'll give the Communists two or three spots."
Mounting Criticism
Luzhkov's relations with Russia's leaders are long and complicated. In the 1990s, Luzhkov sought to succeed then-President Boris Yeltsin. Over the years, rumors circulated that the Kremlin was maneuvering to replace him.
Now, however, Luzhkov's empire appears to be finally crumbling. Most believe the Kremlin is only waiting for the appropriate moment to remove him.
Earlier this year, Luzhkov's friend, billionaire Telman Izmailov, fell from grace after contraband worth $2 billion was discovered at Moscow's Cherkizovsky market, which he controls.
Has Russian President Dmitry Medvedev (left) lost patience with Luzhkov?
Soon after, Shalva Chigirinsky, the businessman behind some of Moscow's biggest real estate projects, claimed he handed over half his business to Luzhkov's billionaire wife, construction magnate Yelena Baturina, in return for preferential treatment by the city government.
Opposition politician Boris Nemtsov last week added fuel to the charges, alleging that the success of Baturina's company, Inteko, was directly linked to her marriage to Luzhkov.
Nemtsov, the Solidarity co-leader and a former deputy prime minister, also accused Luzhkov of massive corruption, saying the mayor has failed to control crime, traffic, and pollution in the Russian capital.
Nemtsov says the city wastes staggering sums on road construction, spending $500 million per kilometer on a project called Moscow's fourth ring road.
"The English Channel tunnel was one of the world's most complicated construction projects, linking continental Europe to Britain. It was argued over, and took God knows how long to build," Nemtsov notes. "But compared to Moscow's fourth ring road, it cost nothing: $300 million."
Luzhkov's Shorter Leash?
Luzhkov has called the accusations "lies" and says he plans to sue Nemtsov for defamation. But the multiple allegations have begun to weaken the mayor's standing as an unassailable city icon.
Luzkhov's authority was further undermined when President Dmitry Medvedev last month appointed an outsider as Moscow police chief, several months after his predecessor had been fired as a result of a police shooting spree.
And after the head of the Moscow city's advertising committee was arrested on corruption charges, the "Vedomosti" newspaper quoted police as saying they'd been given the go-ahead to launch investigations into the activities of Moscow officials.
Analysts say the Kremlin may decide to remove Luzhkov as early as next year. But some, like Pribylovsky, believe the Kremlin is more interested in having him remain in power for now to ensure the right election results on October 11.
"The Kremlin's general policy is to leave Luzhkov as mayor but trim his wings, take posts and property from the Luzhkov clan," Pribylovsky says.