STRASBOURG -- It's safe to say the United States and its main European allies broadly share a common view of the problems facing the world -- from Afghanistan and nuclear disarmament to the economic crisis.
It is also safe to say that Barack Obama, in his debut trip to Europe as the American president, has succeeded in changing the tenor of the trans-Atlantic relationship after the controversial tenure of George W. Bush.

But shortcomings and doubts remain -- perhaps most notably on how the NATO alliance should tackle what are becoming known as "21st-century threats."
A painful, if relatively minor, reminder came in the form of a row over NATO's next secretary-general that kept some alliance leaders up well into the night on the first day of the alliance's two day summit and delayed its conclusion by more than two hours.
Ultimately, NATO leaders at the alliance's 60th anniversary summit on the French-German border succeeded in pushing through the candidate long tapped as the European favorite: Danish Prime Minister
Anders Fogh Rasmussen
.
The decision, which came after a protracted dispute with member state Turkey, was announced triumphantly by the outgoing NATO chief, Jaap de Hoop Scheffer of the Netherlands.
"Anders Fogh Rasmussen has been chosen and appointed by unanimity," de Hoop Scheffer said. "That is a very important decision. And I think that [French President Nicolas Sarkozy] and [German Chancellor Angela Merkel] will agree with me...[that] it is the result that counts. And Anders Fogh Rasmussen is an extremely capable and competent next NATO secretary-general."
Late-Hour Row
The row over a secretary-general highlighted differences within NATO over its expanding role -- encouraged by the United States -- in fighting the spread of global terrorism, particularly in Afghanistan.
Turkey had long objected to Rasmussen, Europe's favored candidate, arguing his refusal to censure a Danish newspaper for the publication of cartoons depicting the Prophet Muhammad in 2005 disqualified him for the role.
Turkey's Prime Minister Recep Tayyip Erdogan said on April 3 that many Muslim nations felt a decision to confirm Rasmussen would not advance global peace.
Diplomats said the summit's final hours were effectively spent in horse-trading, with Turkey seeking concessions in return for dropping its objections to Rasmussen.
Officials said Ankara's demands included appointing a Turk to one of NATO's deputy secretary-general posts. It also asked that Denmark shut down the Kurdish-language Roj broadcasting network operating in the country, and requested U.S. backing for operations against Kurdish rebel formations in Iraq.
NATO has reportedly agreed to create a special post for a Turkish official, and Rasmussen, who is due to travel to Turkey on April 6, may ultimately concede on the Roj issue as well.
Looking Ahead
Turkish officials were quick to applaud the United States for securing an agreement the Rasmussen appointment, which, if unresolved, could have ended the summit on a note of sour disarray. Turkish President Abdullah Gul today credited Obama's personal intervention with resolving the split.
Rasmussen, registering his gratitude at the post-summit press conference, hit a few uncertain notes -- offering a retrospective of NATO's achievements noticeably out of tune with the continued U.S. emphasis on the alliance's need to look ahead and build up its capacities for a global role.
"We celebrate the 60th anniversary of the most successful peace movement the world has ever seen," Rasmussen said. "Today we have celebrated the French-German friendship, we have celebrated European unity, we have celebrated the trans-Atlantic partnership."
Rasmussen was an early supporter of President Bush's war in Iraq. But his statements upon his selection reflected a distinctly Euro-centric point of view. Although the Danish premier likely owes his promotion to such sentiments, it appears to leave him somewhat at odds with the Obama administration.
Obama has received an adoring welcoming in Europe, but his hopes of forging a new global consensus were stymied by European leaders who saw a chance to right the perceived wrongs they suffered during the Bush era.
Both French President Nicolas Sarkozy and German Chancellor Angela Merkel took the opportunity this week to remind Obama of their convictions that the global economic crisis has its roots in the United States, that no single country could solve the world's ills, and that a military victory in Afghanistan was unlikely.
Obama himself appeared all too aware of this imbalance when, speaking at a town hall meeting in France on April 3, he said both sides needed to adjust to new realities.
"Instead of celebrating your dynamic union and seeking to partner with you to meet common challenges, there have been times where America has shown arrogance and been dismissive, even derisive," Obama said. "But in Europe, there is an anti-Americanism that is, at once, casual, but can also be insidious, instead of recognizing the good that America so often does in the world."
Afghan Mission
The NATO summit ended with a warm volley of praise from all sides for the spirit of cooperation and unanimity at work in Strasbourg and Kehl. But Obama, who came to Europe aiming to secure a pledge of additional troop commitments for Afghanistan, may return home with less than he had hoped for.
By his own admission, counterinsurgency and anti-extremist efforts in Afghanistan and Pakistan remain Obama's most critical foreign policy priority. But while there was agreement that Afghanistan is important -- a "21st-century litmus test," as Merkel put it -- there was also a consensus that the only way to rid Afghanistan of terrorism is for the Afghans to assume greater responsibility for doing it themselves.
French President Sarkozy made that point emphatically at the start of the second day of the summit, saying "we have no right to lose, because there [in Afghanistan] one part of the world's freedom is at stake."
Sarkozy went on to stress the importance of "Afghanization" in delivering stability and security to that country.
Obama has said he will send 21,000 extra troops this year to Afghanistan. That will take U.S. troop levels in the country to 59,000 -- nearly double the remaining international forces combined. European leaders' contributions, by comparison, were modest -- ranging from seven soldiers to a few hundred. The list was topped by Germany and Spain, which will each send 600 new soldiers, and France with 300.
Most European allies agree with Obama that Afghanistan cannot be won militarily, but they appear to place a greater emphasis on the importance of building up an Afghan police force. France, Italy, and Portugal announced they will send 300 military police trainers in addition to the 177 conventional instructors the EU has on the ground. Even there, however, Europe falls short in comparison to the United States, which has nearly 2,000 trainers in Afghanistan.
Obama may find his aims in Afghanistan -- which are now more limited to aggressively pursuing Al-Qaeda and stabilization -- complicated by many allies' concerns over the country's passage of legislation influenced by the strictest interpretations of Islamic law. The summit strongly condemned a recently approved
Afghan law
sharply curtailing women's rights.
The U.S. president, in his final remarks before departing Strasbourg, opted to emphasize the positive, praising his NATO colleagues for their support on Afghanistan.
"All of NATO understands that Al-Qaeda is a threat to all of us and that this collective security effort must achieve its goals," Obama said. "And as a signal of that commitment, I am pleased that our NATO allies pledged their strong and unanimous support for our new strategy."
Common Interests
European leaders were pleased this week with Obama's pledge to share the responsibilities of global crisis response with other powers, including the developing world. The American president won plaudits in European papers for the unexpected depth of his humility when he said on April 2, at the end of the G20 summit, that "international architecture" will no longer be designed by "just Roosevelt and Churchill sitting in a room with a brandy."
That declaration played well with the EU's advocacy of multilateralism, as did assurances given by Obama earlier this week that the head of the World Bank will no longer necessarily be an American, or that of the International Monetary Fund (IMF) a European.
Obama's efforts to reach out to Russia for arms talks, as well as help on Iran and Afghanistan, have also been welcomed in Europe as a multilateralist gesture -- although they go largely over the heads of Berlin, Paris and Brussels.
Seeking a strategic regional partnership with Moscow, France and Germany in particular have been content to permit Russia to manipulate NATO's agenda. That has translated itself into a disappearance of memberships prospects in the foreseeable future for Georgia and Ukraine -- although the NATO summit declaration said the door for both countries remains open.
In keeping with their multilateralist rhetoric, the European countries' predominant aim seemingly remains to achieve some sort of parity with the United States.
That also explains the NATO summit's overwhelming symbolic preoccupation with showcasing French-German unity. The summit was shared by the towns of Kehl in Germany and Strasbourg in France. At the start of the second day, the NATO leaders crossed a so-called "Friendship Bridge" spanning the river Rhine from Germany to France.
France also announced its return to NATO's military command structure at the summit after an absence of more than 40 years. President Sarkozy has said he wants to build up a "European pillar" in NATO, together with Germany.
A functioning French-German axis in NATO could eventually develop into a counterweight to Washington's global ambitions for the alliance. Chancellor Merkel this week reflected the European view earlier this week, arguing there can be "no global NATO."
NATO: 60 Years In Eight Minutes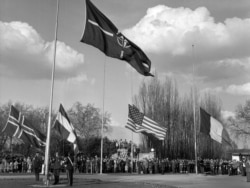 60 Years In Eight Minutes
In Washington in 1949, the North Atlantic Treaty Organization was born. RFE/RL looks at the dramatic and difficult moments in NATO history with rarely seen archive films and exclusive interviews. Play

NATO At 60 series:
Rolling With The Changes
End Of Expansion?
The Article Of Faith
Getting The Balance Right