MAKHACHKALA, Russia (Reuters) -- Magomedsalam Magomedov has taken the oath of office as new president of Russia's Daghestan, promising to put the violence-ridden Muslim region in order and pardon rebels who turned in weapons.
Lawmaker and businessman Magomedov, 45, was picked by the Kremlin and swiftly approved by Daghestan's parliament earlier this month as part of Moscow's plan to reduce poverty and stem corruption and violence in the North Caucasus.
"I have no illusion that it will be easy," Magomedov said in a speech after being sworn in. "Escalating terrorist activity in the North Caucasus, including in Daghestan, urges us to revise all our methods of fighting terror and extremism."
"I have said already...that we are open to dialogue with those who want to return to normal human life, to peaceful life. We hope for support of religious leaders and representatives of various confessions who traditionally play the main role in the life of Daghestan's society."
The Kremlin says the North Caucasus is Russia's worst internal political problem.
Human rights bodies say it is abject poverty and rampant unemployment -- fuelled by all-pervasive corruption -- that push many young people into the ranks of Islamist rebels.
Magomedov earlier promised to recruit educated businessmen to shore up the region's rickety economy.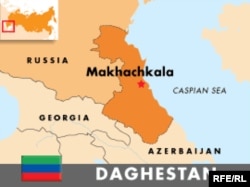 Daghestani-born billionaire Suleiman Kerimov attended Magomedov's inauguration, receiving special attention as a guest of honor, along with the heads of neighboring regions and top Muslim and Russian Orthodox clergymen.
Daunting Tasks
Violence is simmering in the North Caucasus, a patchwork of regions on Russia's southern flank, made up of Daghestan, Ingushetia, and Chechnya, the latter the site of two separatist wars with Moscow since the mid-1990s.
Underlining the tense situation, traffic was stopped and heavy police cordons blocked several streets adjoining the Russian Theater in the regional capital, Makhachkala, where Magomedov took the oath.
Unknown gunmen killed two policemen at a checkpoint in a mountainous district in central Daghestan late on February 19, and unidentified attackers shot dead two civilians in the western town of Khasavyurt early today, Russian media reported.
Earlier this month, the police chief of Makhachkala was shot dead in his car, just hours after a bomb planted under a car killed the head of a police counterterrorism department.
Magomedov replaces unpopular leader Mukhu Aliyev, and is the son of a previous Daghestani president, Magomedali Magomedov, who ran the province between 1987 and 2006.
While trying to ease Daghestan's economic woes and fighting crime, Magomedov also has to walk a tightrope of intricate
internal clan relations
in a region of 2.7 million, which is the size of Austria but is home to some 32 small nationalities.
Daghestan, meaning "the land of mountains" in Turkic, is also tagged "the Mountain of Languages." Even in Soviet times the key posts were shared out to preserve a delicate equilibrium that prevented any one local ethnic group acquiring too much power.
Avars, Dargins, and Kumyks are the three largest nationalities in Dagestan.
Magomedov, an ethnic Dargin, replaced Aliyev who is an Avar. He has already said that "in order to keep ethnic parity" the head of the region's government -- currently a Kumyk -- must be replaced with an Avar. The present chairman of parliament -- also a Dargin -- is widely expected to be replaced by a Kumyk.