CHISINAU -- An new opinion poll predicts the ruling Communists will get 38.5 percent of the vote in the parliamentary elections scheduled for July 29, RFE/RL's Moldovan Service reports.
The poll, conducted by Moldova's Association of Sociologists and Demographers, gave the Communist Party more support than a poll released on July 20 by IPP that gave the Communists 31.1 percent.
According to the new poll five opposition parties will garner enough votes to take seats in the parliament, with a combined percentage of about 60 percent of the vote.
That three-fifths majority is the percentage necessary for the parliament to elect a president.
However, analysts say many polling institutions are easily influenced by politicians.
Moldova Votes Again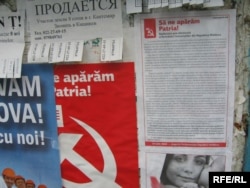 #moldovavotes
Through the eyes of RFE/RL correspondents and editors, guest bloggers, and other contributors who are following the July 29 national elections from the streets of Chisinau and far afield. Plus tweets and pics.
More