Almaz, a 13-year-old boy in the southern Kyrgyz city of Osh, couldn't wait to see his classmates. His parents, however, were among many in the area who aren't sure their child would be there when schools reopened on September 1.
"They say we should wait a month and see if other students go," Almaz says. "I miss my classmates. We used to play together."
The new school year is supposed to bring anxiety and trepidation for young students. But with wounds still raw from ethnic violence in June that killed hundreds and displaced hundreds of thousands, whole families' emotions are running high.
"I have 21 friends -- both Uzbeks and Kyrgyz," Almaz says. "I call my friends asking if they are planning to go to school. They say that they don't know."
Some have left for Russia, he says. One is in Kyzyl-Kiya, in nearby Batken Province, and will study there. Another "will stay in a village" for his schooling.
"All students are quite afraid of going to school now," Almaz adds.
Osh, like the rest of the south, is calm on the surface. There have been no recent interethnic clashes or shoot-outs like those seen in Osh and Jalal-Abad provinces in June.
But the ethnic strife is still fresh in the minds of residents of southern Kyrgyzstan, where violence left nearly 400 people dead and forced 400,000 -- mainly ethnic Uzbeks -- to flee their homes.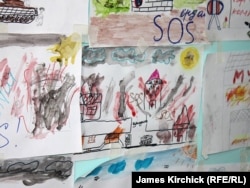 Pictures drawn by ethnic Uzbek children in Osh in July
There is still a lack of trust among ethnic communities. Reports of arbitrary arrests and kidnappings following the unrest were seen as undermining reconciliation. The situation has led many families to move elsewhere in Kyrgyzstan, or to other countries such as Russia.
The mayor of Osh, Melis Myrzakhmatov, has made no secret of his differences with Bishkek. He argued that the first day of school should have been delayed until security had improved.
Myrzakhmatov recently called for the government to provide 500 or so additional police officers to boost security at Osh's schools. The mayor warned that without such a move, the country risked a tragedy similar to the 2004 crisis in Russia, in which more than 1,000 people were taken hostage on the first day of school in Beslan, North Ossetia, and more than 300 died in the course of three days.
Security Measures
Education Ministry officials have announced that in some Osh districts, schools will be provided with round-the-clock security protection.
In Jalal-Abad Province, Deputy Governor Kadyrbek Jakypov has announced similar 24-hour measures and said that special alarms have been installed in local schools. Everywhere in southern Kyrgyzstan, special security teams are being set up to protect students and school buildings, and the Education Ministry has called on parents to cooperate in establishing "security corridors" for students going to and from school.
Education authorities in the south insisted that all necessary measures were in place.
An official "Welcome to School!" campaign is aimed at ensuring uninterrupted education for children and restoring public confidence in the government's ability to provide security.
A new busing system has also been set up in southern provinces to get students to school and back. Authorities are calling on parents to personally escort their children to and from the buses -- at least in the first two weeks of September -- until it becomes routine for students.
Abduvali Baltabaev, the head of education in Osh Province, said recently that security is a top priority for authorities.
"Our schools are ready," he says. "We are trying to address the question of security, asking for the allocation of three to four policemen for every school and two policemen for every kindergarten."
"Besides, we are requesting 35 buses for 10 routes that would carry children to schools," he vowed in late August. "This issue will be resolved by September 1."
At universities in southern Kyrgyzstan, the academic year has already been postponed until mid-October, with students asked to join special security teams to protect schoolchildren.
Osh authorities say all but one of the city's 57 schools were completely renovated over the summer.
But Hamza Uzbek school -- one of two in the province that were burned to the ground -- remains closed, and its some 500 students are expected to attend other nearby schools.
About 1,000 pupils will be in makeshift tent classrooms,
officials say
.
WATCH: Unicef tents being used to house temporary classrooms in Osh on September 1:
The city's education system is a linguistic amalgam. There are 14 Kyrgyz-language, 22 Uzbek-language, and nine Russian-language schools. The other 12 are "mixed" schools, including Kyrgyz and Uzbek students, among others. Authorities have invited parents, especially from mixed schools, to join the security teams.
International organizations like the United Nations Children's Fund (UNICEF), have been assisting Kyrgyzstan in its effort to rebuild its education system in southern regions.
Broader Fears
Osh education authorities said they expected a majority of the province's more than 226,000 students to turn up at schools on September 1.
Many parents, however, remained undecided. Mamlakat Patidonova, like many in Osh, is struggling to rebuild upon returning to the city and is at pains to make ends meet. She says she and many fellow ethnic Uzbeks would not send their children back to school even if they were confident in the security situation.
''I won't send my children to school, and the main reason for that is financial," Patidinova says. "Our house was burned down. We are not in a position to buy clothes and other supplies for children."
The situation has led to long-term fears.
Gulnoza Karimova, an Uzbek mother, echoes the sentiments of many parents from her Osh neighborhood. She says she fears the lack of money and security will postpone her children's education, and they will never catch up.
RFE/RL's Kyrgyz Service correspondents Alisher Toksonbaev and Ernist Nurmatov contributed to this report from Osh