The United States and Indonesia have agreed to expand cooperation in a variety of sectors during a visit by U.S. President Barack Obama to Jakarta -- the second leg of his 10-day Asia tour.
Obama and Indonesian President Susilo Bambang Yudhoyono announced the agreement at a joint press conference following talks at the state palace complex.
The two leaders said their countries would expand their relationship in trade and investment, education, energy, climate and the environment, security, and democratization.
Obama praised Indonesia for having created a "genuine democracy" with a very diverse population, and said other Southeast Asian countries could learn from it.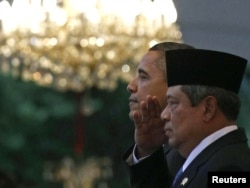 Indonesian President Susilo Bambang Yudhoyono and his U.S. counterpart Barack Obama take part in an welcoming ceremony in Jakarta.
"We are building on Indonesia's inspiring transition from dictatorship to democracy by launching a new effort to help Indonesian civil-society groups who tackle corruption and promote human rights at home to share their experience with civil-society groups across this region," Obama said, "because I think people can learn from the experiences of Indonesia."
Obama arrived earlier in the day from India for a much-delayed visit.
Obama -- who remains popular in a country where he spent four years as a boy, attending schools in Jakarta -- has twice postponed this visit because of domestic problems.
But he will have little time for tourism during his stop in the world's most populous Muslim-majority state. Originally scheduled to last 24 hours, the White House said it might be cut short because of ash in the atmosphere from a volcano eruption.
Ending Misunderstanding
On November 10, Obama is to visit the Istiqlal Mosque, Southeast Asia's largest, and then give a speech.
The address is seen as seeking twin aims -- engaging Indonesians on their embrace of democracy and economic growth, and renewing the dialogue with Muslims that Obama opened at his Cairo address in June 2009.
Obama today noted what he said was progress in Washington's effort to reach out to the Muslim world:
"Our efforts have been earnest, sustained. We don't expect that we are going to completely eliminate some of the misunderstandings and mistrust that have developed over a long period of time," Obama said. "But we do think that we're on the right path."
Thousands of security personnel are on the streets of Jakarta for Obama's visit to a country that has fallen victim to deadly militant attacks in recent years. Bombs on the resort island of Bali in October 2002 killed more than 200 people.
The visit also comes at a time when Indonesia is trying to recover from the eruption of the Mount Merapi volcano and a tsunami. The twin disasters have killed more than 530 people and forced thousands more into emergency shelters.
In India, Obama signed $10 billion in trade deals and backed India's bid for a permanent seat on the United Nations Security Council.
Following Jakarta, Obama is due to visit South Korea and Japan.
written by Antoine Blua with agency reports