MOSCOW -- U.S. President Barack Obama began his day by having breakfast with Russia's hard-line prime minister, Vladimir Putin. He ended it by sitting down with some of the Kremlin's staunchest critics.
In the hours between, Obama walked a diplomatic tightrope that saw him trying to balance the contradictory demands of Washington's complex and troubled relationship with Moscow as he sought to "reset" relations with the United States' former Cold War foe.
The difficulty of the president's task was on full display as he addressed graduates of Moscow's New Economic School in what the White House billed as a major foreign-policy address.
Bright sunlight shone through the roof of the cavernous Gostiny Dvor exposition center next to Red Square as Obama offered a vision of a world made safer by closer cooperation between the United States and Russia.
"America wants a strong, peaceful and prosperous Russia. This belief is rooted in our respect for the Russian people and a shared history between our nations that goes beyond competition," Obama said, calling for a sustained effort "to identify mutual interests and expand dialogue and cooperation."
At the same time, Obama made clear Washington's concern over Moscow's dismal record on democracy and human rights and its strong disapproval of Moscow's meddling in the affairs of its neighbors.
"In 2009, a great power does not show strength by dominating or demonizing other countries. The days when empires could treat sovereign states as pieces on a chessboard are over," Obama said, alluding to Russia's invasion of Georgia last year, which put an icy chill on relations between Moscow and Washington.
"State sovereignty must be a cornerstone of international order. Just as all states should have the right to choose their leaders, states must have the right to borders that are secure, and to their own foreign policies. That is true for Russia, just as it is true for the United States. Any system that cedes those rights will lead to anarchy. That is why we must apply this principle to all nations -- and that includes nations like Georgia and Ukraine."

'This Will Not Be Easy'
There was criticism, but there was also praise. Obama honored the Soviet Union's sacrifices in World War II and hailed Russian contributions in culture and science.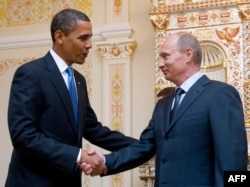 Barack Obama and Russian Prime Minister Vladimir Putin "formed the basis of a good relationship."
The United States isn't perfect, he said, but its political system allowed women and minorities to fight for, and win, equal rights. The country's independent media, he said, has exposed corruption. Robust elections hold leaders accountable.
Obama also reached out to the Russian people, saying that resetting relations with the Russian government is only one aspect of the change he is seeking. The other, he said, is a new dialogue with Russian society, where anti-Americanism is rampant.
"This will not be easy," Obama said. "It is difficult to forge a lasting partnership between former adversaries, it's hard to change habits that have been ingrained in our governments, in our bureaucracies for decades. But I believe that on the fundamental issues that will shape this century, Americans and Russians share common interests that form a basis for cooperation."
In contrast to the recent speeches Obama delivered in Prague and Cairo -- where he was interrupted by applause -- the Moscow audience was mostly silent as the U.S. leader spoke. The students applauded politely at the end of the president's 31-minute speech.
None of Russia's major television networks broadcast Obama's appearance. The only station that did was the country's cable news channel Vesti-24, which most Russians don't watch.

A Long And Turbulent Relationship
Before his speech, Obama met for two hours -- twice as long as planned -- with Prime Minister Putin, who is widely seen as Russia's de facto ruler. Before leaving for Moscow, Obama raised eyebrows by criticizing Putin and suggesting he had a "Cold War approach" to U.S.-Russian relations.
Nevertheless, the Associated Press quoted a White House official as saying Putin and Obama "formed the basis of a good relationship" during their meeting.
Speaking to reporters before the meeting, Obama praised Putin's role in reviving Russia's economy and called for "a tone of mutual respect and consultation."
For his part, Putin said he hoped U.S.-Russian ties would improve with Obama in the White House
"Russian-American relations have a long history and have had different colors," Putin said.
"There have been years when our relations flourished, and there have been gloomy days, and even confrontation. We link hopes for development of our relationship with your name."
On July 6, the first day of his visit, Obama met with his Russian counterpart Dmitry Medvedev to discuss arms control, curbing Iran's and North Korea's nuclear programs, and combating Al-Qaeda and the Taliban in Afghanistan.
The two countries signed a preliminary agreement over a major new nuclear-arms deal to replace the 1991 START treaty that expires at the end of this year.
As Barack Obama visited Moscow, RFE/RL correspondents asked Russians what they think of the U.S. president -- and the new prospects for U.S.-Russian relations.
Meeting The Opposition
Obama spent part of the afternoon on July 7 at a civil-society conference organized by nongovernmental organizations. In the evening he met for an hour with several key opposition leaders, including former chess champion Garry Kasparov and Solidarity movement co-founder Boris Nemtsov.
Opposition figure Vladimir Ryzhkov told RFE/RL's Russian Service that Obama had spent more time discussing civil-society issues on this trip than any other visiting U.S. president.
Ryzhkov said the meeting with Obama touched on the case of jailed former Yukos CEO Mikhail Khodorkovsky, the suppression of free speech and free assembly, and the absence of competitive elections. He also said that Kasparov presented Obama with a list of political prisoners:
"At today's meeting, I can say that President Obama got an accurate view of what '
sovereign democracy
' is and how it works the difficulties faced by the opposition and civil society in our country," Ryzhkov said.
Nemtsov said that Obama listened sympathetically but said he needed to continue to work with Russia's leaders. Nemtsov called that a "reasonable position," and said the battle for democracy in Russia must be fought by Russians.
"Liberating Russia from this corrupt bureaucracy is not Obama's obligation, it is ours. This is our battle," Nemtsov said.
"We don't expect help from abroad. But we believe that America as a great world power and President Obama as a world leader must know what kind of condition Russia's political system is in. We also need to strengthen our contacts with America."
Obama leaves Moscow on July 8 to attend the Group of Eight summit in Rome.

RFE/RL's Russian Service contributed to this report
Boris Nemtsov On Obama's Visit
Nemtsov On Obama's Visit
After his meeting with U.S. President Barack Obama in Moscow, Russian opposition leader Boris Nemtsov told RFE/RL what the talks mean for the opposition, and what signals they send to the Kremlin. Play