Despite the brutality of its former regime, Iraq was once seen as a model of education in the Arab world. The country boasted some of the region's highest literacy rates, justifying the Arabic saying, "The Egyptians write, the Lebanese publish, the Iraqis read."
Today, up to one-quarter of Iraq's adults are illiterate.
Years of war and instability have left their mark. Rather than focus on education, many Iraqis give priority to basic survival, while a decline in the skills of the country's teachers has taken its toll on those students who do seek to learn.
International Literacy Day on September 8, which is sponsored by the United Nations Educational, Scientific,and Cultural Organization (UNESCO), is an opportunity to address these issues.
This year, the UN agency is putting the spotlight on literacy's importance for civic participation, citizenship, and social and human development.
The message will be delivered in Iraq, where economic sanctions imposed in the 1990s and six years of occupation and violence have dramatically affected the education system.
Rural Girls Suffering
Nour Dajani, education program specialist for the Amman-based UNESCO office for Iraq, says the country today counts as many as 5 million people who cannot read or write.
Literacy is obviously dependant on school attendance, which stands at 86 percent in Iraq.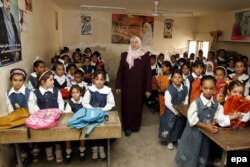 A primary school in Baghdad (file photo)
Dajani calls the rate "reasonable" under Iraq's current situation, but she says it is much lower among internally displaced populations and girls living in rural areas.
"Young children are forced to leave school either to help their families, or because of displacement there are no schools around, or because of security problems the parents are afraid to send the girls to school," Dajani says.
"The lowest rate of primary enrollment is among rural girls. It's around 68 percent. However, that rate decreases when they shift from elementary education to secondary education. It's around 15 percent," she says.
Illiteracy is also of particular concern among the more than 1.5 million Iraqi refugees estimated to live in neighboring Syria and Jordan.
Syria provides free access to school for Iraqi children, but 2009 witnessed a significant drop in the number of Iraqi children enrolled in Syrian public schools.
"According the [Syrian] Ministry of Education, over 49,000 Iraqi students were officially enrolled for the school year 2007-2008, compared to 32,500 in 2008-2009," says Farah Dakhlallah, public information officer for the United Nation's refugee agency (UNHCR) in Syria.
"The longer that the Iraqis are staying in Syria, the more vulnerable they're becoming financially because they're running out of savings," Dakhlallah says, "so children have to drop out of school to support their families."
UNESCO's Dajani says continued instability also affects the performance, attendance, and qualification of teachers in Iraq. She says they sometimes have two or three shifts, limiting the timing of schooling.
Weak Teaching Standards
Nihad Abbas, deputy minister of education for scientific affairs, tells RFE/RL's Radio Free Iraq that educational institutions are burdened by a decline in the capabilities of teachers.
"The fact is that we need to develop our teachers and our teaching standards. The standards of our teachers are currently very weak. Even those recently appointed have not been subjected to testing, with reliance solely on their college scores," Abbas says.
"This of course involves many negative aspects, which means that our educational standards are below par. This is the reason behind the low rate of passing grades [from secondary school to university]."
Abbas says private schools are achieving better results than public schools because they are employing retired teachers, who are better qualified.
The head of the Education Committee in the Iraqi parliament, Ala'a Makki, says the root cause of the low teaching standards is to be found in the higher education institutions from which the teachers graduate.
"In general, the standards at the educational colleges have slipped," Makki says. "The resulting low standard among teachers is responsible for lower standards among students. Furthermore, the Education Ministry is unable to provide enough workshops and teaching seminars."
Globally, according to UNESCO, a staggering 776 million adults worldwide still lack basic reading and writing skills. Two-thirds of them are women. Some 75 million children are out of school and many more attend irregularly or drop out.
Radio Free Iraq correspondent Muhammad Kareem contributed to this report from Baghdad; translations by Ayad Al-Gailani