One year ago today, lawyer Stanislav Markelov was gunned down in broad daylight on a central Moscow street when an assailant carrying a gun with a silencer shot him in the back of the head at point-blank range.
Anastasia Baburova, a young journalist walking with Markelov at the time of the attack, was also shot, and died later that day of her injuries.
Markelov was a human rights lawyer who defended war crime victims in Chechnya and was active in the fight against Russia's rising fascist movement.
Watchdog groups insist his murder was almost inevitably tied to his work.
Baburova, an ecological activist who had traveled from her Ukrainian hometown of Sevastopol to work as a freelance reporter with the opposition "Novaya gazeta" newspaper, was only beginning her career.
Her parents, Larisa and Eduard Baburov, thought at first she was an unfortunate victim of circumstance, in the wrong place at the wrong time.
Twelve months later, Eduard Baburov says, they see the situation differently.
"Before the murder of our daughter, we didn't know anything -- we absolutely weren't up to date -- on what was happening in Russia," her father says. "After the murder, we started to understand more, in detail and close up. We were horrified at how fascism had spread."
Growing List Of Victims
Baburov says he and his wife "got the impression that the process is already uncontrollable -- that the state can't do anything."
"The ideology of Nazism and fascism has developed from the bottom to the top," Baburov says. "It has representatives in different state structures, in the State Duma, everywhere..."
In a letter published in "Novaya gazeta" on November 30, on what would have been their daughter's 26th birthday, the Baburovs argued that fascism had taken root in Russia, and they called on the state to recognize the problem.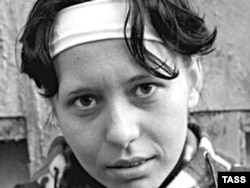 Anastasia Baburova
The letter listed a number of victims of the far-right movement, including
Ivan Khutorsky
, the leader of the antifascist movement Antifa, who was shot and killed outside his Moscow apartment on November 16.
"Novaya gazeta" has had its own share of tragedy, most notoriously with the August 2006 contract-style killing of anti-Kremlin journalist Anna Politkovskaya.
Speaking to RFE/RL's Russian Service from their home in Ukraine, the Baburovs say both their daughter and Markelov spoke of threats they'd received before the January 19 attack.
Larisa Baburova says Anastasia -- Nastya to her family -- even wrote her parents a prophetic goodbye letter a few days before she was killed.
"They saw the danger, they knew what was threatening them," Barburova says.
She describes the horror when they accidentally stumbled on the letter two days later: "We were so in the dark. I read [the farewell letter] and was horrified. I thought, 'What's this, that our daughter is saying goodbye?"
Barburova says it was "obvious that she had been seriously threatened."
Four days later, she was gunned down in broad daylight in downtown Moscow, a city of 10 million.
'Nazi Terror'?
Two people, Nikita Tikhonov and Yevgenia Khasis, have been arrested in connection to the Markelov and Baburova murders.
Tikhonov is reputedly a far-right extremist who was already wanted by police for involvement in the murder of an antifascist activist. The pair was arrested on the eve of the November 4 public holiday, which has become a focal point for far-right groups.
In a long investigative piece published on January 18, "Novaya gazeta" described the pair as allegedly well-organized, well-funded and heavily armed. Tens of thousands of euros were reportedly found in their flat, along with weapons and a cache of high-quality fake documents.
The article struck a warning note, saying Tikhonov and Khasis were just one of a number of far-right extremists prepared to launch violent attacks on antifascist campaigners and state officials.
Tikhonov initially confessed to the murders but later retracted, saying he had admitted to the crime under duress.
In the wake of the murder, friends and activists set up an antifascist organization called the January 19 Committee (www.19jan.ru). The group will hold two public gatherings this evening against what they call "Nazi terror" in the center of Moscow. (
Reuters reports
that Moscow police detained 24 people at the "illegal" rally, which attracted some 1,000 people.)
Moscow authorities previously rejected a request by activists to hold a rally, but reportedly reversed that decision last week. Police will be escorting demonstrators between the two gatherings; organizers say there will be a veto on political slogans.
Organizers have received the backing of famous figures such as musician Andrei Makarevich and science fiction writer Boris Strugatsky.
The difficulties the January 19 Committee has experienced in organizing the demonstrations is in marked contrast to the nationalist group Russky Obraz, of which Tikhonov was a member. That group was given permission for a demonstration for 2,000 people at Bolotnaya Ploshchad, near the Kremlin, last year.
Intimidating Presence
Galina Kozhevnikova, who works for the Sova Center, Russia's leading authority on hate crimes and ultranationalist groups, says the public is awakening to the tactics of the far right. Racially motivated killings dropped dramatically in 2009, to 60 from 112 the previous year -- a change she attributes to law-enforcement organs beginning to tackle the far right more seriously.
Suspected killer Yevgenia Khasis (left) is escorted to Moscow's Basmanny court in December.
Still, she says, extremist groups remain strong, and their tactics are evolving.
"The thing is, the ultra-right have openly turned to antistate terror and direct terror and have set themselves the aim of destabilizing the situation in the country, creating an all-out panic with which they then aim to start a military coup," Kozhevnikova says.
Part of this new strategy, she says, includes threats and attacks on antifascist agitators.
"This terror is not only attacks on state authorities, but the intimidation, the murdering of activists who work against xenophobia," Kozhevnikova says. "Baburova and Markelov are only some of the victims from last year. There were a lot of threats last year, and we too were threatened."
There were fears of possible unrest or attacks at today's meetings commemorating the murders of Stanislav Markelov and Anastasia Baburova.
Larisa Baburova says she appreciates the dedication of the protesters, but that their personal safety is more important.
"The 'antifa' need to take care of themselves," she says.
"There is no need to run into things -- as you can see, no one is going to support you. You need to protest, but you also need to look after yourself, and your life. Ivan Khutorsky was killed. And there are plenty of these cases.... You see what is happening."