WATCH:
Deadly clashes between thousands of antigovernment protesters and security forces have left at least 40 people dead and 400 wounded. (Warning: Some graphic images, video: Reuters)
BISHKEK (RFE/RL) -- The five-year-old government of Kyrgyz President Kurmanbek Bakiev appears to have been ousted by opposition forces following two days of clashes between antigovernment protesters and police that left as many as 40 people dead and 400 wounded.

Kyrgyz opposition leader Roza Otunbaeva told Reuters news agency in a phone call that she is now the head of what she called a temporary "caretaker government" after Bakiev was forced to flee the capital of Bishkek.

She said she wants Bakiev, who opposition members say may have flown to the southern city of Osh, to resign.

Otunbaeva is a former foreign minister who helped bring Bakiev to power in 2005 after the "Tulip Revolution" toppled President Askar Akaev. She said opposition plans call for her to "coordinate" an interim government for six months, until a new constitution is drafted.

Temir Sariev, the leader of opposition Ak-Shumkar Party, told RFE/RL's Kyrgyz Service how the resignation of Prime Minister Daniyar Usenov played out on April 7.

"We established an [interim] government which consists of 14 people," he said. "Then the members gathered and appointed Roza Otunbaeva as [interim] prime minister. The rest of them became members of the cabinet. Then they gave power to Otunbaeva and [myself] to negotiate with [former Prime Minister] Daniyar [Usenov] to obtain his resignation letter."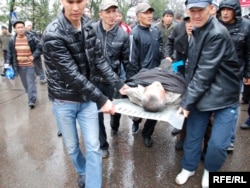 An injured protester is carried off.
Disputed Death Toll

The tumultuous conclusion of the last two days means this mountainous Central Asian republic of just over 5 million people has experienced its second revolution in just five years.

The scene in Bishkek on April 7 was one of chaos and clashes as opposition supporters seized control of security headquarters, a state television channel and other government buildings. Reports said crowds looted shops during the night and some buildings blazed into the early morning hours.

Kyrgyz Health Ministry officials confirmed at least 40 people were killed and around 400 wounded. But opposition leaders claimed there were as many as 100 deaths.

The violence stunned the international community and brought calls for restraint from the United States, EU, UN, and Russia. UN Secretary-General Ban Ki-moon, who visited Bishkek last week as part of a Central Asian tour, said he was "shocked" by the deaths and injuries.

The chaos followed weeks of tension between the opposition and the government led by Bakiev, who opponents say has cracked down on independent media and fostered corruption.

Opposition figure Bolot Sherniazov, who has been named interim interior minister, told RFE/RL's Radio Azattyk in the early hours of April 8 that the new government was already preparing to investigate Bakiev and his government.

"The interim government has enough force and enough political will [to investigate President Kurmanbek Bakiev's deeds," he said. "Compared with [former President Askar] Akaev, [Bakiev's] government [has more blood on its hands]. Investigating the Bakiev government's crimes I think will take much longer."


Security Fears

RFE/RL correspondents in Bishkek say opposition leaders appeared on state-run television in the evening of April 7 to reassure the public that "people power" was now in control of the government.

But there was also another message. Azimbek Beknazarov, a member of the new interim government, said in a broadcast that the new government plans to make public the "names of all the officials who exploited Kyrgyzstan within the last 20 years."

He continued, "We need to punish them. We need to find their wealth even from the deep hiding [places] under the Earth. We must return the people's wealth to the people. Only after that might the people trust us."

Correspondents described the situation in Bishkek late on April 7 as "tense" and reported sporadic reports of looting in some parts of the city.

The Kyrgyz news agency Kabar said looters ransacked and set ablaze a house belonging to Bakiev's family.

Kyrgyzstan's border control service said it had closed its border with Kazakhstan late on April 7 at the request of the Kazakh authorities.

Ismail Isakov, an opposition politician and a former Kyrgyz defense minister, told RFE/RL's Kyrgyz Service that the security situation was stable. "There is no reason to conclude that security is not being maintained in the country," he said. "The people's power has been established everywhere."

In Washington, where Kyrgyzstan is considered a close and important ally, the tumult raised concern about the security of the U.S. military air base in the city of Manas, which the U.S. uses to support its operations in Afghanistan.

U.S. State Department spokesman Philip Crowley said operations at the base appeared to be "functioning normally."

RFE/RL's Kyrgyz Service contributed to this report