The quarrel between the Kremlin and Moscow's sacked mayor, Yury Luzhkov, has become still messier with the publication of a scathing letter by Luzhkov and reports of impending legal action from both sides.
The ex-mayor remained defiant one day after his humiliating dismissal by President Dmitry Medvedev, who cited a "loss of trust" in Luzhkov's ability to remain in the job.
The powerful mayor had run Moscow for 18 years but angered the Kremlin by criticizing Medvedev in a newspaper article early this month.
In an apparent tit for tat, reports emerged within hours that Russian federal investigators had opened a probe into allegations of corruption in Moscow's city government.
Today, Luzhkov also issued an all-out attack against Medevedev in a letter published on the website of the weekly opposition magazine "New Times," accusing the president of imposing a stifling climate of repression and censorship.
"In our country the fear of expressing one's view has existed since 1937," he wrote, referring to the year considered to be the high point of the purges under Soviet dictator Josef Stalin's Great Terror.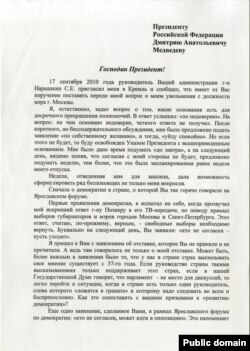 Luzhkov's letter to President Dmitry Medvedev, published by "New Times"
Although the letter was written on September 26, Kremlin spokeswoman Natalya Timakova insisted its content had not influenced Medvedev's decision to sack the mayor.
Opposition figure Boris Nemtsov, a fierce Luzhkov critic, says the ex-mayor's defiance means he faces serious legal woes.
"The only serious reproach that can be made against Luzhkov is the hopeless, unbridled corruption in Moscow," Nemtsov said. "Medvedev will have to launch criminal cases. If he doesn't, Luzhkov will become a powerful political heavyweight who will rally disgruntled officials and businesspeople around him. Luzhkov could become a rival to the ruling tandem in the 2012 elections, he could run for president."
Political Prospects
Luzhkov on September 28 quit the ruling United Russia party, which he helped found, saying the party failed to support him and "stop the flow of lies and slander."
The same day, he told a meeting of Moscow prefects that he planned to stay in politics and fight for the return of direct elections of regional leaders, scrapped by then-President Vladimir Putin in 2004.
Since his dismissal, United Russia has sought to distance itself from the disgraced mayor and its officials have joined the loud chorus of criticism against him.
Konstantin Kosachyov, the chairman of the International Relations Committee of the upper house of Russia's parliament and a high-ranking United Russia member, says Luzhkov was solely responsible for his own demise.
"Despite his undeniable services to the city, the country, and the party, unfortunately he felt increasingly infallible lately, he was increasingly convinced that the only correct strategies and tactics are his own," Kosachyov said. "Such a stance always leads to conflict, and that's what happened."
Luzhkov has made a fair share of enemies over nearly two decades in power, and many Muscovites are happy to see him go.
Critics accuse him of running Moscow like a personal fiefdom, destroying historic buildings, ignoring Moscow's traffic congestion, and illegally helping his wife, billionaire construction boss Yelena Baturina, pocket vast fortunes in lucrative tenders.
More Than Meets The Eye
Luzhkov again came under fire this summer when he stayed on vacation in Austria as Moscow was choked by toxic smoke from forest and peat fires.
But political analyst Mikhail Delyagin says Luzhkov, despite his faults, has done a number of services to Muscovites -- including largely protecting Muscovites from the economic woes resulting from the wild privatizations of the 1990s.
"Moscow stopped evolving, internal problems grew, the governance system began degrading and less attention was paid to ordinary people," Delyagin said. "Racketeering and theft thrived, and they began targeting not only businesses but also ordinary citizens. Gradually, people forgot about Luzhkov's role in the 1990s."
Luzhkov also won respect from public sector workers and pensioners by boosting their meager incomes, making Moscow's teachers, police officers, and state doctors the best paid in Russia.
With his ouster, public sector workers are now worried about cuts to their incomes.
Many Muscovites, including some of his critics, believe things will not necessarily change for the best after Luzhkov.
His dismissal clears the way for a redistribution of the capital's wealth and of its staggering $36.7 billion annual budget.
Business groups close to Putin and Medvedev are now expected to win more of Moscow's lucrative building contracts, and some of Putin's close allies have been named as possible successors to Luzhkov -- including government chief of staff Sergei Sobyanin.