CHISINAU (RFE/RL) -- Polish Foreign Minister Radek Sikorski said in Chisinau on July 24 that Warsaw is ready to support Moldova's European integration efforts if the upcoming Moldovan parliamentary elections are "positively evaluated internationally."
Sikorski said that if such conditions are met his country will work within the EU to secure Moldova a new association agreement with the 27-member union.
Sikorski is the latest in a string of EU officials to visit Moldova after the controversial elections on April 5, and in asking the Communist government to ensure free and fair elections on July 29.
Moldova and five other post-Soviet countries are included in the EU's new Eastern Partnership, which was initiated by Poland and Sweden. The plan calls for closer ties for those six countries with Eastern Europe and the Caucasus, envisaging visa-free travel, financial assistance, and better trade ties, but it does not promise membership.
Moldova has reacted cooly to the partnership, saying it wants to be among the potential candidate states, like Macedonia, Serbia, and other countries in the Western Balkans.
Moldova Votes Again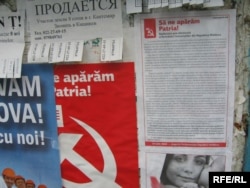 #moldovavotes
Through the eyes of RFE/RL correspondents and editors, guest bloggers, and other contributors who are following the July 29 national elections from the streets of Chisinau and far afield. Plus tweets and pics.
More