Armed policemen, including masked special-forces officers, have raided the Moscow office of the "The New Times," one of Russia's few opposition-minded media outlets.
During the raid, on September 2, Russian police Colonel Stanislav Pashkovsky pressed the magazine's editor in chief, Yevgenia Albats, to hand over recordings of interviews and other material used in a February report on alleged abuse of power by the country's feared OMON riot police.
After policemen entered the office, "New Times" journalists alerted several media organizations, including RFE/RL's Russian Service, whose correspondent arrived in time to record Pashkovsky speaking.
On the recording, Pashkovsky is heard saying, "We suggest that you voluntarily -- voluntarily -- give us the recordings of your interviews with the present and former OMON staff that took place prior to the publication of the article. If you refuse to do so, we will put this in writing now."
The magazine posted
videos of the raid
on its website.
'Slaves of OMON'
The article in question, entitled "Slaves of OMON," cited police sources who alleged that riot police have been given permission to commit abuses when breaking up protests.
"It was an article about the violations taking place inside Moscow's OMON -- how they are given instructions on how to break up Marches of Dissent, how it is explained to them that supporters of the Russian opposition are the enemies of Russia," Albats said.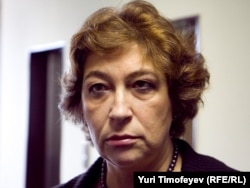 Yevgeniya Albats, editor in chief of "The New Times," in her Moscow office today.
The report also alleged that members of the riot police collect protection money from prostitutes, use Central Asian migrants as slave labor, and provide security for businesses and private homes for extra cash.
Albats, who is a vocal critic of the Kremlin, said today's raid was part of an investigation into whether current and former officers interviewed for the article were guilty of slander.
Police previously searched the magazine's office in April. That action was condemned as illegal by the media rights group Reporters Without Borders.
Pashkovsky told reporters who arrived on the scene today, "There are no secrets here, everything is transparent."
Protesters Beware

Albats refused to hand over the recordings
, citing legislation that protects journalists' sources.
"I can tell you that one of the sources has revealed his name while the second source, who is still an OMON member, gave us an interview on terms of confidentiality and repeated several times he did not want his name to be revealed because it would put his life in danger," she told reporters.
Albats later said she did hand over a 43-page interview transcript, but refused to divulge the names of any confidential sources or provide any audio or video recordings that could help police identify them.
Moscow's 2,000-strong OMON force has been criticized by the European Union and Russian rights groups for using disproportionate force to break up opposition protests.
On August 31, police in Moscow and St. Petersburg detained at least 130 protesters, including opposition leaders Boris Nemtsov and Eduard Limonov.
Laima Andrikiene, the deputy chairwoman of the European Parliament's subcommittee on human rights, attended the Moscow protest and later told RFE/RL's Russian Service that she was shocked by the number and behavior of police officers on the scene.
A day earlier, in an interview published by Russia's daily "Kommersant" newspaper, Russian Prime Minister Vladimir Putin said protesters who fail to obtain permission from local authorities for public demonstrations "will get a cudgel to the head."
Albats said she expected the police to return in the future, and called the investigation into the magazine's sources an attempt to intimidate independent media.
written by Richard Solash with material from RFE/RL's Russian Service and agencies