NEW YORK -- Speaking at the New York-based Council on Foreign Relations last week, two political experts on Iran discussed the impact that Iran's postelection situation will have on its future policies at home and abroad. They were Mohsen Milani, a professor who chairs the Department of Government and International Affairs at the University of South Florida, and Suzanne Maloney, senior fellow at the Saban Center for Middle East Policy at the Brookings Institution.
"What we have seen in Iran is nothing short of a war of the Islamic Republic against the Islamic Republic itself because what we are witnessing is the struggle between two different visions for the Islamic Republic," asserted Milani.
He said the situation that Iran finds itself following the country's controversial June 12 election is the result of a combination of factors, including a split within the governing elite, major divisions among powerful factions and individuals, and public discontent on the streets.
Maloney said that hard-liners in Iran today have a greater capacity for repression than the former shah's security apparatus.
It is unlikely, she said, that there will be reconciliation between the forces backing Mahmud Ahmadinejad, whose landslide presidential victory has been fiercely disputed, and the reformist camp represented by former Prime Minister Mir Hossein Musavi, the leading reformist challenger who believes large-scale fraud led to his second-place finish to Amadinejad.
Maloney also addressed the role of Ali Akbar Hashemi Rafsanjani, a former president who backed Musavi during the elections and whose sermon at Tehran's Friday Prayers on July 17 was heavily scrutinized by both camps for signs of support.
"Surely people like Rafsanjani are going to continue to be part of this system," Maloney said, "but many of them who've been disaffected in a way that I think will be difficult for them to come back in a serious way and make peace with Ahmadinejad; participate in his government such as it is when it's reconstructed with an inauguration in August."
Milani said there are fundamental differences between the scale and instruments of repression under the shah's regime and under the current establishment.
"The repressive capability of the Islamic Republic is significantly more than the shah ever had," Milani said. "The shah simply had the SAVAK [Intelligence Agency], but these people have the Basijis, they have the [Islamic] Revolutionary Guards, and they have their own intelligence agency. So, they do have considerable repressive capability and I don't think you have seen it all yet and, most importantly, they are willing to use it."
Maloney noted a critical difference in the command structure and the composition of the Baisji and Revolutionary Guards rank-and-file compared to that of SAVAK.
"This Islamic Republic is nowhere near collapse at this stage," Maloney said. "There are still many of us who wonder to what extent you would see the Basiji, the Revolutionary Guards willing to fire on large crowds in large numbers."
Reports by amateur journalists and Youtube videos make it evident, Maloney said, that the Basiji and Revolutionary Guards at this point are proceeding cautiously, trying to persuade protesters to dissipate peacefully and encouraging them to leave the streets.
At the same time, she said, if the unrest continues and the authorities feel threatened, they will not hesitate to issue orders for mass suppression of protests and to resort to much greater violence than we have witnessed so far.
Iran Election Special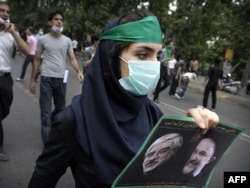 RFE/RL's Full Coverage
Following the disputed reelection of Iranian President Mahmud Ahmadinejad, supporters of Mir Hossein Musavi have taken to the streets to protest.
Click here
for news, blogs, and analysis of the presidential election and aftermath.