24-year-old Amir Javadifar was detained during a July 9 peaceful protest in Tehran. About two weeks later, the Iranian authorities informed Amir's family about his death.
A friend who saw Amir's body told RFE/RL's Radio Farda that he had been tortured: "He had a fractured skull, one of his eyes was almost crushed, all the nails on his toes had been extracted, and all of his body was bruised."
Amir's friend added that some of his teeth and jaw were also broken.
Amir's death in custody is one example of the many cases of violence committed in Iran in recent weeks, which some legal experts have said are violations under international law.
Payam Akhavan, a former UN war crimes prosecutor and cofounder of the Iran Human Rights Documentation Center, says his rights center has been inundated with videos, images, and documents from Iran via encrypted e-mail.
Akhavan tells RFE/RL that the brutal repression of peaceful protesters -- including killings, beatings, torture, and imprisonment -- resembles a widespread pattern of systematic human rights abuses that can be defined as "crimes against humanity" under international law.
He said that if there is enough evidence, officials who are in charge of the ministries and bodies that are behind the killings can be legally held responsible according to international law.
Twenty Confirmed Deaths
The Iranian government has confirmed the death of some 20 people in the postelection violence, but rights groups believe the real death toll exceeds the official number.
An Iranian legislator, Farhad Tajari, said on July 28 that 30 people have lost their lives in the bloody clashes that followed the election. Some reports have suggested that it is likely that more than several hundred people may have died as a result of the crackdown.
Neda Agha Soltan, who was allegedly shot dead by security forces, was peacefully protesting at the time of her death. Others, a number of reports indicate, died as a result of injuries sustained from beatings, including Amir Javadifar.
In recent years Ahmadinejad has been attending the assembly. We want the world to recognize him as criminal. If he does travel to New York to attend the summit we will organize a big protest
In the past days at least three cases have been reported in which detainees died following beatings and torture by security forces.
One is Mohsen Ruholamini, the son of an adviser to conservative presidential candidate Mohsen Rezai, who apparently died in prison following a severe beating.
Another victim was Ramin Ghahremani, who died a few days after being released from jail. He reportedly told his mother that he had been hanged from his feet for several days.
The head of the Tehran Prisons Organization, Sohrab Soleimani, has said that no "inhumane and immoral" behavior has been carried out in Tehran prisons. But the emergence of numerous reports to the contrary has led to increased concern and anger even within Iran's conservative camp, and has led the authorities to take steps to calm the growing discontent.
Former Prime Minister Mir Hossein Musavi, who is seen as the leader of the opposition, has described the killings and arrests as a catastrophe, saying on July 27 that "we did not witness such a thing before the revolution."
On July 28, in an apparent gesture toward the opposition, Iran's Supreme Leader ordered the closure of the Kahrizak detention center, where many protesters were held in conditions described as horrifying. The same day, 140 detainees were ordered released from Evin prison.
But many of the reported 2,000 reformist figures, journalists, human rights activists, and others who were arrested in the postelection crackdown remain in jail, where they reportedly continue to face pressure.
Security Council Appeal
A prominent Iranian journalist, Akbar Ganji, who went on a three hunger strike last week to call for the release of political prisoners in Iran, says Iranian leaders should be brought to justice for crimes against humanity.
Ganji told RFE/RL he is planning to launch a complaint with the United Nations Security Council.
"We will call on the Security Council to send Iran's case to the International Criminal Court at The Hague. We are planning to gather the signatures of many Iranians for this letter," he said.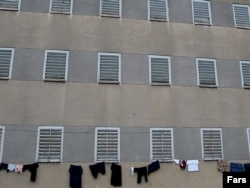 Many of the detainees have been held in Tehran's Evin prison
Ganji's new efforts are targeted against Iran's President Mahmud Ahmadinejad, who is due to be sworn in for a second term on August 4.
"[Supreme Leader] Khamenei never leaves Iran, but Ahmadinejad and his ministers are often traveling outside the country. The UN General Assembly will begin in about a month and a half, in September," Ganji said.
"In recent years Ahmadinejad has been attending the assembly. We want the world to recognize him as criminal. If he does travel to New York to attend the summit we will organize a big protest."
Ganji says Iranian leaders should be put on trial not only for the postelection human rights abuses but also for past violations.
Former UN war crimes prosecutor Akhavan says the recent violence is not different from the violence that took place in the past 30 years.
"In 1988 about 4,000 [political] prisoners were executed in Iran. The government is not even willing to confirm the number of those executed," Akhavan said.
Iran has signed but not ratified the Rome Statute of the International Criminal Court, a permanent body to which the UN Security Council can refer cases.
The Rome Statute states that that murder; extermination; torture; rape and political, racial, or religious persecution and other inhumane acts reach the threshold of crimes against humanity if they are part of a widespread or systematic practice.
Akhavan, who teaches international law at Canada's McGill University, does not want to comment on which particular individuals might be held responsible until the investigation is complete.
But he remains hopeful that one day those responsible for human rights violations in the Islamic Republic will be brought to justice.
He refers to his experience with the UN court for the trial of President Slobodan Milosevic and others who were responsible for genocide in Bosnia and elsewhere and says: "witnesses can be found, and it is possible to make a case."
Akhavan tells RFE/RL that putting on trial those responsible for serious human rights violations should be "a long-term goal."
It took more than 10 years to bring former Bosnian Serb leader Radovan Karadzic to justice, he says.
Radio Farda broadcaster Rosa Ajiri contributed to this report
Iran Election Diary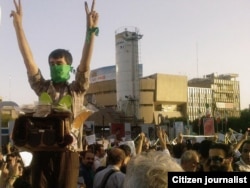 Disputed Presidential Vote
There have been protests and clashes with police on the streets of Tehran following the disputed reelection of Mahmud Ahmadinejad. RFE/RL collects videos, photos, and messages on social-networking sites coming out of Iran to attempt to get a picture of what is happening inside the country.
Click here
The Battle For Iran's Future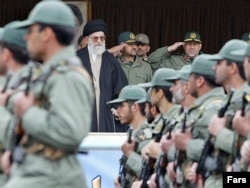 The Battle For Iran's Future
With much more than a disputed presidency at stake for Iranians, RFE/RL's Charles Recknagel and Mazyar Mokfi explore the power plays that could reshape Iran's political establishment.
Click here
for news, blogs, and analysis of the presidential election and aftermath.