TEHRAN (Reuters) -- Iran's Supreme Leader Ayatollah Ali Khamenei has ordered the closure of Kahrizak detention center where some detainees are believed to have been held since Iran's disputed presidential election.
The order is regarded as a move to calm simmering discontent among leading moderates and their supporters, particularly when the clerical establishment faces rifts over President Mahmoud Ahmadinejad's appointment of his first vice president.
Lawmaker Kazem Jalali said 140 detainees were released from Evin prison after members of a parliamentary commission visited the prison on July 28, ISNA reported. "Those with minor charges have been released on bail," said Jalali.
The semi-official Mehr news agency has quoted Jalali as saying the Kahrizak detention center was ordered closed because of its "sub-standards" to preserve the "rights of detainees."
Some reformist websites have reported some detainees involved in protests following the June 12 election were being held at Kahrizak under "severe physical and mental pressure."
"Kahrizak is the detention center which the leader ordered closed because it lacked necessary conditions to preserve rights of detainees," said Jalali, spokesman of a special parliamentary committee set up to investigate detentions after the election.
Rights groups say hundreds of people, including senior pro-reform politicians, journalists, activists and lawyers, have been detained since the election.
Jalali said 150 people who were involved in postelection protests and 50 others, including political activists, members of counterrevolutionary groups and some foreigners, remained in jail following the releases from Evin.
It was not clear if detainees at Kahrizak had been released or transferred to another detention center.
A relative of women's rights defender Shadi Sadr said she had been released on July 28. The activist was detained by plainclothes agents on July 17.
The presidential vote plunged Iran into its biggest internal crisis since the 1979 Islamic Revolution and exposed deepening divisions in its ruling elite.
Khamenei, Iran's most powerful figure, has endorsed the re-election of hard-line President Mahmud Ahmadinejad. Defeated moderate candidates Mir Hossein Musavi and Mehdi Karrubi say the vote was rigged in his favor.
Iranian media have reported several protesters' deaths following the vote.
'No Mistreatment'
Tehran Prisons Organization chief Sohrab Soleimani rejected any detainee mistreatment.
"No inhumane and immoral behavior has been carried out in Tehran prisons. There are no solitary confinements in Evin," the "Etemad" newspaper quoted Soleimani as saying on July 28. The Tehran prison is where many political prisoners are held.
Iran's top judge, Ayatollah Mahmud Hashemi-Shahrudi, ordered the judiciary on July 27 to re-examine the cases of moderate detainees in a week.
The daily also said the judge had ordered all "prisons and detention centers" to be visited by his envoys.
Jalali said members of the committee would visit Evin on July 28. "We are unlikely to visit Kahrizak because it has been closed," he said.
Relatives of many detained leading pro-reformers have expressed concerns over the fate of their loved ones.
"It has been more than 40 days that they have not had any contact with the outside world...you are responsible for the health of our loved ones," the daily quoted a letter addressed to Shahrudi by wives of two detained prominent reformists.
Mostafa Tajzadeh, former deputy interior minister, and Behzad Nabavi, former industry minister, were detained shortly after the vote.
Khamanei ordered the president last week to dismiss Esfandiar Rahim Mashaie as first vice president because he said Iran was friends with the people of arch-foe Israel.
The president remained defiant until July 25, when he dismissed Mashaie, to whom he is related by marriage.
Iran Election Special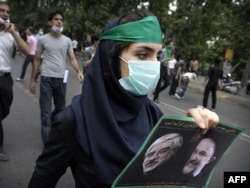 RFE/RL's Full Coverage
Following the disputed reelection of Iranian President Mahmud Ahmadinejad, supporters of Mir Hossein Musavi have taken to the streets to protest.
Click here
for news, blogs, and analysis of the presidential election and aftermath.
Iran Election Diary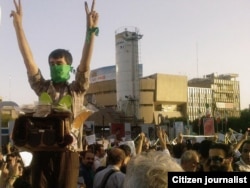 Disputed Presidential Vote
There have been protests and clashes with police on the streets of Tehran following the disputed reelection of Mahmud Ahmadinejad. RFE/RL collects videos, photos, and messages on social-networking sites coming out of Iran to attempt to get a picture of what is happening inside the country.
Click here